David Quirke, Chief Information Officer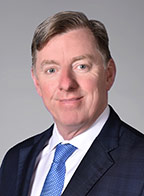 David Quirke serves as Inova's Chief Information Officer (CIO). In this leadership role, David is responsible for developing our technology roadmap, and driving digital health innovation and improved care delivery through IT in support of all of our many audiences and communities. He is playing a critical part in driving results through IT strategy, data/analytics, strong operating discipline and systems integration.
David comes to Inova from the University of Pittsburgh Medical Center – Pinnacle in Harrisburg, Pennsylvania where he was Senior Vice President and Chief Information Officer. UPMC Pinnacle is a health system with eight acute care facilities and 1,600 beds.
At UMPC, David led IT discovery, acquisition and integration of five new hospitals, managed EpicCare deployment at hospitals, physician practices and ambulatory locations and implemented governance councils that engaged medical staff and service lines. Prior to joining UPMC, he held chief information officer roles at Trivergent Health Alliance and Frederick Regional Healthcare System.
David holds a Bachelor of Computer Science degree from University College Dublin in Dublin, Ireland.