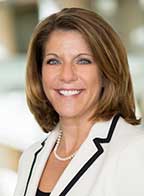 As Chief External Affairs Officer for Inova Health System, Jennifer Siciliano oversees all aspects of Inova's relationships with external stakeholders for the organization.
With almost two decades of experience on and around Capitol Hill, Jennifer has served Members of Congress in both the House and the Senate. After leaving the Hill, she represented many high-profile clients as a consultant with a bipartisan government relations/public relations firm.
Jennifer's career began in the U.S. House of Representatives where she held numerous positions with the Congressman from Alaska. She continued in the House as Director of Communications to the House Science Committee. Following her service in the House, she was asked to join the U.S. Senate Appropriations Committee staff as Director of Communications where she was the official spokesperson and single point of contact for all media inquiries relating to the activities of the Committee, its thirteen subcommittees and the Chairman.
Jennifer joined Inova in 2007 as Assistant Vice President for Government Relations, and subsequently served as Vice President of Government Relations.
She is a board member and executive committee member of the Virginia Chamber of Commerce and the Chamber's Health Care Industry Council, the Virginia Business Council, the Northern Virginia Technology Council and LEAD Virginia. She represents Inova on the Greater Washington Board of Trade and serves as Inova's liaison for the Greater Washington Partnership. She is also a founding member of the Community Foundation of Northern Virginia's Business Women's Giving Circle.
Jennifer's past leadership positions include: Chair, Northern Virginia Chamber (2018 – 2019); Vice Chair, Northern Virginia Chamber of Commerce (2017-2018); Secretary, Northern Virginia Chamber of Commerce (2016-2017); Board of Directors, Medical Care for Children Partnership; Member, Fairfax County Economic Development Commission; and Board of Directors, George Mason Honors College Board.
Jennifer holds a Bachelor of Arts degree in Communications and Public Relations from Marymount University and a Master of Arts in Public Communications and Government Relations from American University in Washington, DC.