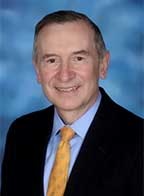 Leon E. Moores, MD, DSc is President of the Inova Physician Enterprise and is responsible for the leadership, operational development, and execution of priorities designed to support northern Virginia physicians and Inova team members as we continually improve patient care and access in support of Inova's mission, vision and values.
A practicing pediatric neurosurgeon, Leon has spent much of his career serving in combined clinical and leadership roles: Infantry Lieutenant, 82nd Airborne Division; Chief of Neurosurgery, Walter Reed; Chair, Department of Surgery, Walter Reed; Deputy Commander (EVP) for Integration, National Naval Medical Center; Commander (CEO), Fort Meade Medical Activity; and CEO, Pediatric Specialists of Virginia. He has twice deployed to combat zones to care for our service members in harm's way.
Leon is a graduate of the United States Military Academy at West Point (BS), the Uniformed Services University (MD), the Industrial College of the Armed Forces (MS, Strategy and Resource Management), and the School of Health Professions, University of Alabama, Birmingham (DSc, Healthcare Leadership). He is a Professor of Neurosurgery, VCU School of Medicine (Inova) and a Professor of Surgery and Pediatrics at the USU F. Edward Hebert School of Medicine. Leon has received awards as the honor leadership graduate from West Point, the Army Infantry Officer Basic Course, the Uniformed Services University, and the Industrial College of the Armed Forces and he co-authored the US Army's physician leadership development program. He was the Army Surgeon General's physician leader of the year as a lieutenant colonel in 2005 and again as a colonel in 2012.