Get your game on for the 4th annual Inova Hero Bowl!
Our EMS appreciation flag football tournament, co-sponsored by the Washington Redskins, is a chance to engage in an afternoon of healthy competition with your fellow first responders from the DMV area.
GAME DETAILS
14 team tournament
12 players per team
7 on 7 format
Teams will receive jerseys for the tournament. Complimentary parking will be provided at the facility. Deadline to register is February __, 2020.
Thanks to our 2019 teams for your participation!
Fairfax Fyre Dawgz - 2019 HERO BOWL WINNERS!
Loudoun County Fire & Rescue
Quarter House
Metropolitan Washington Airports Authority Fire/Rescue Department
Prince William Fire & Rescue
Arlington County
Prince George County Fire/EMS Department
DC Fire Agency DC Fire & EMS
Prince William County Night Shift
Highlights from previous Inova Hero Bowls - EMS Appreciation Flag Football Tournament
REGISTER HERE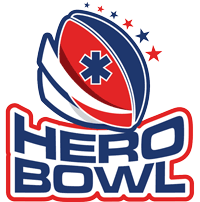 Online registration is coming soon.
Event Details
Date: DATE TBA
Time: 9 a.m. – 5 p.m.
Location: Washington Redskins indoor training facility
Inova Sports Performance Center at Redskins Park
21300 Redskin Park Drive
Ashburn, VA 20147