Inova Women's Hospital has the largest and most respected gynecologic surgery program in the region. Our physicians are field leaders in the surgical treatment of gynecologic cancers, fibroids, pelvic floor disorders, endometriosis and other gynecologic diseases and disorders requiring surgical intervention. These experienced specialists are on the cutting-edge of surgical techniques and share their expertise by teaching residents and fellows. Inova Women's Hospital's house staff includes obstetrics and gynecology residents, medical students, and urogynecology and gynecologic oncology fellows. Committed to CME and the dissemination of best practices, Inova Women's Hospital will host the inaugural Future of Surgery Conference in 2013, dedicated to the advancement of minimally invasive technique.
Minimally Invasive Surgery
Whenever appropriate, minimally invasive surgical techniques are utilized, making for better patient outcomes, faster recovery times, less length of stay and much greater patient satisfaction.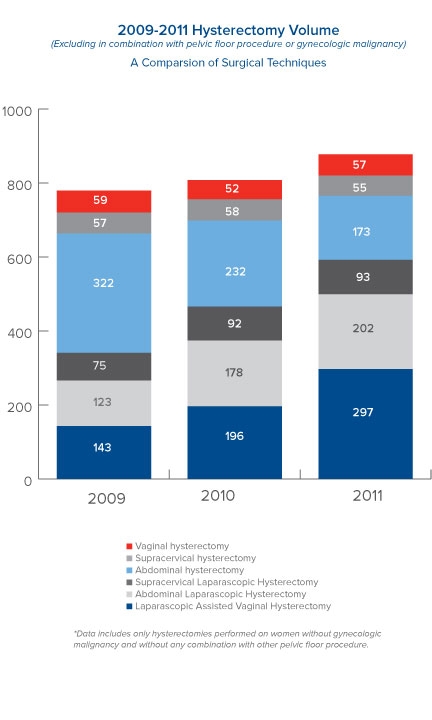 In addition to traditional laparoscopic minimally invasive surgery, Inova Women's Hospital physicians are skilled in robotic surgery, including da Vinci hysterectomy, myomectomy, sacral colpopexy, trachelectomy, and the staging of gynecologic cancers (lymph node removal).
In 2011, more than 5,000 gynecologic surgery cases were performed at Inova Women's Hospital, of which 1,555 were hysterectomies. Of this number, 877 were hysterectomies performed without the presence of gynecologic malignancy or additional pelvic floor surgery. 67.5 percent of these cases were performed via minimally invasive approach. Abdominal open hysterectomies were performed just 19.7 percent of the time (often due to very large fibroids or other extenuating circumstances). Alternately, the 2010 nationwide inpatient sample showed that only 23.3 percent of hysterectomies were performed via laparoscopic approach, and more than 47 percent were performed as abdominal open procedures.
Inova Women's Hospital is committed to leading the region, and the nation, in our commitment to performing appropriate procedures through minimally invasive technique.