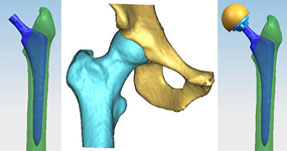 We do not directly provide services or clinical recommendations to patients. However, a patient can ask for our services through an Inova-affiliated physician. (We may not be able to meet every request due to our limited resources.)
Currently we have a series of techniques that can perform patient-specific surgical planning for complex cases.
These techniques include:
Developing patient-specific computerized tissue model based on CT and MRI scans
Conducting virtual surgery to plan the procedure prior the actual surgery
Evaluating the surgical plan through virtual motion and loading analysis
Practicing a surgery on the 3D plastic prototype of patient's musculoskeletal system (or other tissues and organs)
This 3D personalized planning method should improve a surgeon's evaluation of a patient's particular anatomic structure, optimize the implant selection and position, and result in improved preoperative planning for the challenging surgery. Patients should benefit from reduced operative time, reduced blood loss, improved implant stability and ultimately better clinical outcomes. This surgical planning is currently part of our research and the enrollment is free. We much appreciate your donation to support us to continue this research, aiming to improve the clinical outcome for our valued patients.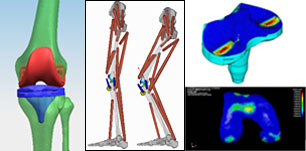 Orthopedic physicians with an interest in research are welcome to contact and visit us. Besides implant testing of all orthopedic subspecialties, we also provide patient-specific surgical planning for complex cases, such as hip/knee revision surgery, spine surgery, high-energy trauma and craniofacial reconstruction. CT/MRI based 3D computer models of patients' musculoskeletal system can help physicians to better observe the damaged bone structure, virtually install the implants to the right position, simulate patients' daily activities, and optimize the implant selection and the entire surgical plan.
The computer models of the musculoskeletal system can be converted to 3D plastic prototype using a 3D printer for physicians to plan and practice the surgery. Our Computer Aided Design (CAD) technique can assist a physician to design new implants. Physicians can also rent the lab as a surgical skill training lab for implant demo and procedure training.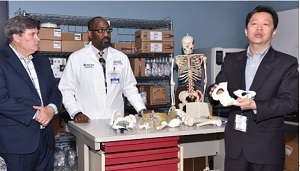 We have worked as a third-party lab for several orthopedic manufacturers to test the performances of their implants. We can conduct fatigue and load to failure test on a standard loading frame to assess the biomechanical properties of orthopedic implants based on parameters such as motion, stress, strain, force, pressure and microcracks. We can also perform finite element analysis to virtually evaluate the performances of the implants when they are installed into a virtual patient. The lab can also work as a surgical skill training lab. We provide space and instrument for orthopedic manufacturers to demonstrate their products and train physicians and residents with specific skills and procedures. We also provide cadaver tissue parts, dissection table, general purpose instrument, OR supplies, tissue disposal and conference space for the training.