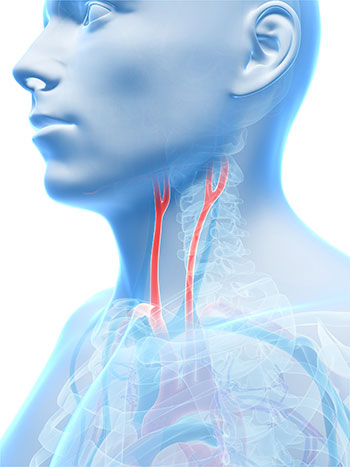 Carotid artery disease is estimated to be the source of stroke in up to one-third of all cases, and there are 400,000 new diagnoses of carotid artery disease made every year in the U.S. Most cases of carotid artery disease, similar to other vascular diseases caused by atherosclerosis, are medically managed.
Carotid intervention is indicated for:
Symptomatic patients with stenosis > 50%
Asymptomatic patients with stenosis > 80%
Carotid endarterectomy (CEA) has long been considered the gold standard treatment because of its low procedural stroke rate. Transcarotid artery revascularization (TCAR) is a less-invasive procedure and has demonstrated a lower stroke rate.
TCAR is a minimally invasive, endovascular procedure that has demonstrated advantages compared to standard carotid stenting, especially for patients at higher risk of surgical complications, due to age, medical comorbidities or anatomical issues.
"Our experience with TCAR leads the region and closely emulates the findings from the clinical trials comparing the safety of TCAR to CEA," according to Richard Neville, MD, Medical Director of Inova Vascular Services, Associate Director of IHVI and Chairman of the Department of Surgery. "It is an effective technique that helps to further minimize the risk of stroke and delivers excellent patient outcomes."
The procedure utilizes a special neuroprotection system to temporarily reverse blood flow away from the brain, collecting any potential debris in a device filter before returning the blood to a vessel in the leg. Because the flow reversal method does not rely on a distally placed filter to capture emboli before they reach the brain, it collects both small and large debris. Once the blockage has been treated, normal blood flow is reestablished.
Approved by the FDA in 2016, TCAR is less invasive than CEA and performed using a smaller incision. As such, it also carries a lower risk of myocardial infarction and cranial nerve damage.
Refer a Patient