J. Stephen Jones, MD, MBA, FACS
President and CEO, Inova
Our Mission
Inova Heart and Vascular Institute (IHVI) embodies Inova's mission to provide world-class healthcare — every time, every touch. The multidisciplinary team-based approach to evidence-based cardiovascular care drives the team to produce superb results for patients.
This is particularly evident in the face of the exceptional challenges posed by the ongoing pandemic. IHVI has continued to excel by contributing to the national body of knowledge on how to treat the cardiovascular and pulmonary consequences of COVID-19 while remaining at the forefront of advances in cardiovascular care.
This passion to create an exceptional patient experience across every dimension of care benefits a broad range of patients with complex cardiac, vascular and advanced pulmonary diseases across our region and beyond.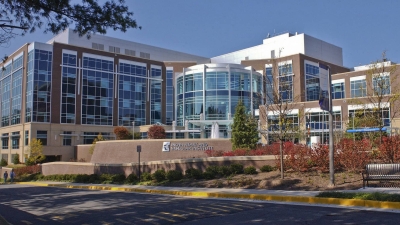 IHVI's Care Delivery: A Multidisciplinary Approach to Optimize Results
2021 has been a year of rebounding and rebuilding following the assault of the pandemic, and we are proud to report that IHVI has faced the challenges and emerged with an even firmer resolve and commitment to excellence. We continue to offer our patients the most innovative and complex diagnostic and treatment options, and our team-based approach brings outstanding outcomes.
We have been on the forefront of using multidisciplinary teams as the cornerstone of care, and we are setting a standard of excellence using this approach. Close collaboration across clinical areas facilitates evaluation of the specific needs of each individual patient and enables the development of a treatment course that addresses possible multiorgan system involvement, comorbidities and conditions related to frailty, among others. In addition, the specific patient's needs, priorities, values and support system are recognized and respected and are important components in guiding treatment.
Our structural heart weekly team meetings are an excellent example of our methodology, bringing specialists from all relevant areas together to determine the best treatment for each individual patient. Interventional cardiologists, cardiac surgeons, imaging experts and advanced practice providers (APPs) conduct detailed assessments. Geriatric and mental health assessments provide additional information, and a course of action is charted based on the risks and benefits for each patient.
Nephrologists, pulmonologists, neurologists and other specialists are brought into the care team as needed. And, importantly, the patient and family are actively involved in the decision-making process through secure video conferencing when in-person meetings are impractical.
Similarly, our team-based approach to cardiogenic shock management has gained national and international recognition and serves as a model for improving outcomes. We are proud to say that our newly launched Inova AFib Center also incorporates a multidisciplinary approach.
We have reinvigorated our clinical research using creative solutions to keep vulnerable patients safe. Our patients have access to the most innovative treatment options including a minimally invasive and promising procedure for severe tricuspid regurgitation, a blood test offering a less invasive approach for early detection of rejection in heart transplant patients, and many other novel therapies made possible through our commitment to clinical research.
Our excellence has been recognized through multiple "High Performing" rankings in U.S. News and World Report and through awards and recognition from the American College of Cardiology's National Cardiovascular Data Registry, the American Heart Association, the Mitral Foundation and the Society of Thoracic Surgeons, among others.
Our team-based approach extends to physicians in our community, and we are grateful for the opportunity to work together to bring the highest level of patient care. We have entered into an even closer affiliation with Virginia Heart, and this enhanced integration and alignment has provided a seamless and more positive patient experience. Our medical, nursing and professional staff are second to none, and we marvel at their resilience, determination and dedication to excellence. We are honored and grateful for the opportunity to serve our patients, and we resolve to continue to make outstanding and compassionate care our highest priority.