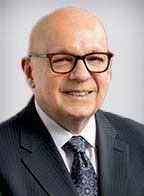 J. Stephen Jones, MD, MBA, FACS
President and CEO, Inova
Our Mission
Across Inova, we strive to fulfill our mission of providing world-class healthcare – every time, every touch – to each person in every community we have the privilege to serve.
Nowhere is that more evident than at Inova Heart and Vascular Institute (IHVI), where the commitment to excellence and strong teamwork continues to yield exceptional results. This drive for clinical excellence is made possible by highly skilled clinicians and other team members with a passion to create exceptional patient experiences and improve patient outcomes for those with complex heart, vascular and pulmonary diseases.
Commitment to Excellence – A Focus on Multidisciplinary Care and Evidence-Based Best Practices
2022 was another challenging year in healthcare, yet IHVI continued to provide world-class care through a commitment to excellence and a focus on implementing evidence-based best practices across all Inova hospitals and sites of care.