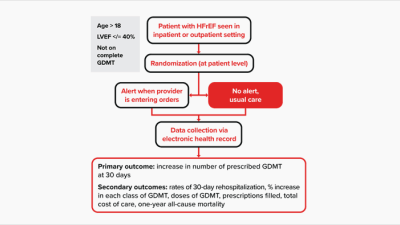 IHVI Explores Electronic Alerts for Heart Failure Therapy
Physicians at IHVI are investigating a unique approach to improve care for patients with heart failure. PROMPT-HF (PRagmatic trial Of Messaging to Providers about Treatment of Heart Failure) is a clinical trial designed to test if a timely and targeted best practice advisory messaging system that alerts clinicians to guideline-indicated and FDA-approved recommendations for medical treatment of heart failure with a reduced ejection fraction (HFrEF) would lead to increased medical therapy prescriptions for heart failure.
Led by principal investigator and IHVI Heart Failure and Transplant Section Chief Mitchell Psotka, MD, PhD, the randomized, single-blind intervention is taking place in Inova outpatient clinics and five Inova hospitals through 2023. According to Dr. Psotka, "The goal of this study is to generate evidence that guides the efficient implementation of therapies to improve life and longevity for heart failure patients at Inova and to provide an excellent guideline-based standard of care for heart failure patients worldwide."
Study design
When clinicians access a heart failure patient's electronic medical record, they receive notification with recommendations for medical therapy based on the patient's characteristics. According to IHVI informaticist and Inova Cardiovascular Information System Medical Director Tina Slottow, MD, the practice of medical informatics "allows clinicians to work smarter, not harder. The PROMPT-HF study provides clinicians timely information and tools to best care for their patients by promoting seamless care through well-designed technology."
The medical record alerts are triggered by the presence of heart failure and the patient's left ventricular ejection fraction and gives the provider information and ordering options for:
Recommended evidence-based medications that could improve the patient's care
Monitoring and follow-up requirements for prescribing these medications
The accompanying order set was designed to simplify implementing the recommendations and maximize utilization of the best available guideline directed therapy for heart failure.
The primary outcome for the trial is the proportion of identified patients with heart failure who have an increase in the number of prescribed evidence-based therapies for HFrEF (beta-blockers, ACE-I/ARB/ARNI, MRA, SGLT2i) 30 days after randomization. Secondary outcome measures are all-cause hospitalization and all-cause mortality at 30, 90, 180 and 365 days, determined by a review of medical, hospital and billing records.
About clinical informatics at Inova

The clinical informatics team at Inova draws on a deep clinical understanding of how technology can improve patient outcomes. The team generates solutions via technology based on clinical indicators providers already use by triggering digital alerts intended to prompt earlier use of interventions and treatments for improved patient outcomes. In essence, the group uses existing computer systems to prompt clinical decision support at the point of care.