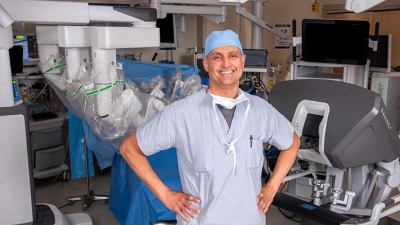 Inova Leads the Way with Innovations in Cardiac Surgery
With our focus on clinical excellence and cutting-edge treatment, IHVI ranks among the top heart centers in the U.S. and leads the way with innovations in cardiac surgery that improve outcomes for patients.
Robotic-assisted minimally invasive heart bypass surgery
Robotic-assisted minimally invasive coronary artery bypass grafting (CABG) – or mini CABG – has been an exciting addition to Inova's heart surgery program. While minimally invasive treatments have become routine in other types of cardiac surgery, mini CABG has been slower to be adopted, due to the technical and physical demands of the technique. Patients' concern over the traditional invasive approach of CABG has led some to delay recommended bypass surgery or seek an alternative option using stents, even if CABG might afford a better long-term outcome.
"After a patient told me he could not undergo a sternotomy because he was the primary caretaker for his wife and could not be incapacitated for the amount of time needed for recovery, I sought out training and began offering mini CABG about five years ago," said cardiovascular surgeon Ramesh Singh, MD, Surgical Director of Inova's Mechanical Circulatory Support Program. "While patients were thrilled to have a minimally invasive option, it was rather challenging, and the pool of patients I could offer it to was limited. Fortunately, IHVI was willing to invest in robotic-assisted CABG, which is more precise and better for both the patient and the surgeon performing the procedure."
The robotic-assisted procedure offers improved visualization compared to the standard minimally invasive technique and allows for greater surgical accuracy in placement of bypass grafts.
Compared to open heart surgery, patients who undergo robotic-assisted mini CABG generally experience less pain and bleeding, a smaller risk of rib fractures or serious infections, and significantly shorter recovery times.
Currently, robotic-assisted mini CABG is indicated for:
Patients who need single-vessel bypass
Patients with multiple blockages who would do well with a single-vessel left internal mammary artery to left anterior descending artery graft combined with stents in other vessels
Patients considered high risk for conventional open heart surgery
Those unwilling or unable to undergo sternotomy due to physical or social limitations
Though IHVI began offering robotic-assisted mini CABG in 2022, our specialized team has five years of experience using the standard minimally invasive surgical version of the procedure.
"For the right patient, it can make all the difference," said Dr. Singh. "Inova is proud to count ourselves among the hospitals offering this option to patients who can benefit from it."
---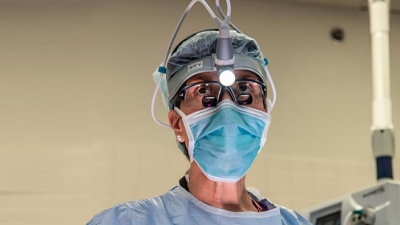 Multiple arterial grafts for CABG surgery offer significant benefits
Over the last several years, Inova's cardiac surgery team has focused its efforts on improving outcomes for CABG patients through the use of multiple arterial grafts. Currently, more than 60% of our patients receive two or more arterial grafts without a concomitant increase in surgical morbidity.
For more than two decades, it has been generally accepted that patients who receive multiple arterial grafts at the time of CABG have better long-term survival rates as compared with those who receive only one arterial graft. U.S. and European guidelines strongly recommend the use of multiple arterial grafts in patients with long life expectancies.
Unfortunately, adoption of these guidelines in the U.S. has been slow and according to the STS database, only about 12% of CABG patients receive a second arterial conduit. This increases to approximately 20% for young (under 50), low-risk patients, but even that number has remained low and has remained unchanged over the last 10 years.
"There are several reasons explaining the slow adoption by the surgical community," said Inova cardiothoracic surgeon Kathleen Petro, MD. "These include concerns about postoperative complications such as poor sternal wound healing and competitive graft flow, as well as the fact that the procedure is technically more challenging, it's very time consuming and many surgeons have not been trained in the technique."
Currently, more than 60% of Inova patients receive two or more arterial grafts without a concomitant increase in surgical mortality.
However, Dr. Petro points out Inova's cardiac surgery program has achieved and maintained the highest rating from STS for CABG surgery every year since 2016. Notably, the 3-star rating for isolated CABG includes top ratings across all the categories (composite, mortality, morbidity, use of internal mammary artery and periop meds), a result achieved by a limited number of programs nationally.
"Not every patient is a candidate for the use of multiple arterial conduits," noted Dr. Petro. "However, in terms of outcomes, the currently available evidence is compelling, with the majority of benefits seen in patients with multivessel disease, followed by those with left main vessel disease. Inova's cardiac surgery team is committed to making the procedure an integral part of our revascularization strategy discussions."
---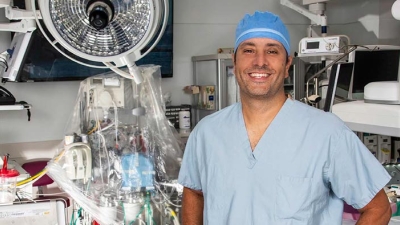 Excellence in mitral valve repair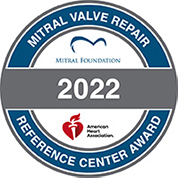 Inova is proud to have once again received the Mitral Valve Repair Reference Center Award from the American Heart Association and the Mitral Foundation for a demonstrated record of superior clinical outcomes resulting from evidence-based, guideline-directed degenerative mitral valve repair.
For more than thirty years, Inova has had a reputation for excellence in valve surgery, said Eric Sarin, MD, Section Chief, Adult Cardiac Surgery and Co-Director of the Structural Heart/Valve Disease Program at Inova. "As techniques and approaches have changed, we continue to lead in our ability to treat complex valve disease."
Evidence-based treatment guidelines support the importance of repairing the mitral valve, as compared to replacing it with a bioprosthetic or mechanical valve. Studies have shown that repair correlates with better long-term outcomes for patients, including improved survival and fewer long-term complications within five years.
"In addition, numerous studies have shown a strong correlation between the number of cases performed by experienced mitral valve surgeons and the resulting clinical outcomes," noted Dr. Sarin. "Therefore, because of our growing volume of mitral valve repairs, we have a distinct advantage."
In order to qualify for the award, heart centers must perform at least 50 repair procedures per year with less than 1% mortality. Additionally, the center must demonstrate a 95% rate of successful repairs and track the durability of the repair over time with echocardiography. IHVI is one of a select number of centers nationally to maintain this designation.
The award also recognizes the breadth of services available. In addition to open surgery, Inova has expertise in catheter-based techniques, innovative protocols for treating advanced heart failure that include the MitraClip procedure and an emphasis on multidisciplinary teams working in concert to benefit patients.