The Dorothea R. Fisher Wound Healing Center is the Washington, DC, area's first specialized resource for treatment of complex sores and wounds that will not heal, including foot ulcers associated with diabetes, non-healing surgical wounds, venous ulcers, pressure ulcers, and wounds related to metabolic diseases such as pyoderma gangrenosum and Crohn's disease.
Regional Leaders in Wound Healing
Our wound healing team is comprised of physicians and certified clinical staff committed to healing complicated wounds using state-of-the-art treatment options and advanced technologies, including hyperbaric oxygen therapy (HBO).
We will communicate with your referring doctor beginning with your initial consultation and throughout your all through your treatment and discharge so that all your physicians are informed of your treatment and progress.
Why are people with diabetes especially at risk for non-healing wounds?
Hyperbaric Oxygen Therapy (HBO)
State-of-the-art hyperbaric oxygen therapy (HBO) is a Medicare-reimbursed treatment option available at Inova Mount Vernon Hospital and Inova Fair Oaks Hospital for conditions that require increased oxygen flow to body tissue, including non-healing wounds for patients with diabetes, chronic radiation injury, compromised grafts and flaps, and 12 other specific conditions.
Our HBO specialists collaborate to provide the most advanced HBO treatment options available. We are excited to offer expanded HBO services at two locations, Inova Mount Vernon Hospital and Inova Fair Oaks Hospital. 
Learn more about Hyperbaric oxygen therapy (HBO)
Certified Hyperbaric Oxygen Therapy Program
The Hyperbaric Oxygen Therapy program at Inova Mount Vernon Hospital is the only program in Northern Virginia accredited by the Undersea and Hyperbaric Medical Society (UHMS), and one of just 600 in the United States to carry this quality accreditation. 

UHMS Accreditation means that our facility has met the highest standards of care and patient safety through a rigorous evaluation of our equipment, staff and training to ensure that the utmost quality is maintained within the specialty of Hyperbaric Oxygen Therapy.
The Right Wound Healing Treatment for You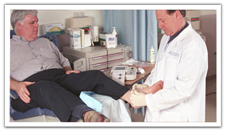 We develop individualized treatment plans based upon your unique needs. Our team of specialists have more than 13 years of dedicated focus and commitment to wound care. When you require wound care expertise, experience matters.
As part of your evaluation, you will receive:
Comprehensive consultation with a wound healing specialist
Thorough assessment of your wound, including measurement and a digital photograph
A customized treatment plan with a multispecialty approach to promote maximum healing
Complete education and instructions on how to care for your wound at home between visits
Learn More About the specialized treatments we offer for difficult and non-healing wounds
Inova's Wound Healing Doctors and Specialists

Inova's highly respected wound healing specialists work collaboratively with physicians such as vascular surgeons, area podiatrists, vascular surgeons, plastic surgeons, radiologists, orthopedic surgeons, rheumatologists, endocrinologists and primary care physicians to ensure the most effective treatment outcomes. 
Our Medical Director, David Charash, DO, is board certified in Undersea and Hyperbaric Medicine and Emergency Medicine, and is certified as a Dive Medicine Physician and Dive Fitness Medical Examiner. 
Meet Our Entire Team of Dedicated Wound Healing Specialists