Inova's nationally-recognized Project Blue Wrap eco-fashion design competition returned for its fifth season in Fall 2013, culminating with a blue wrap showcase at DC Fashion Week's Eco-Fashion Show on September 23, 2013.
Inova once again partnered with DC Fashion Week to bring this eco-friendly, think-outside-the-box fashion design competition back for another round. Project Blue Wrap invited aspiring designers, fashion enthusiasts and at-home crafters from across the country to get creative with blue wrap – a clean, recyclable plastic material used in hospitals to protect sterilized surgical instruments as they are transported to the operating room.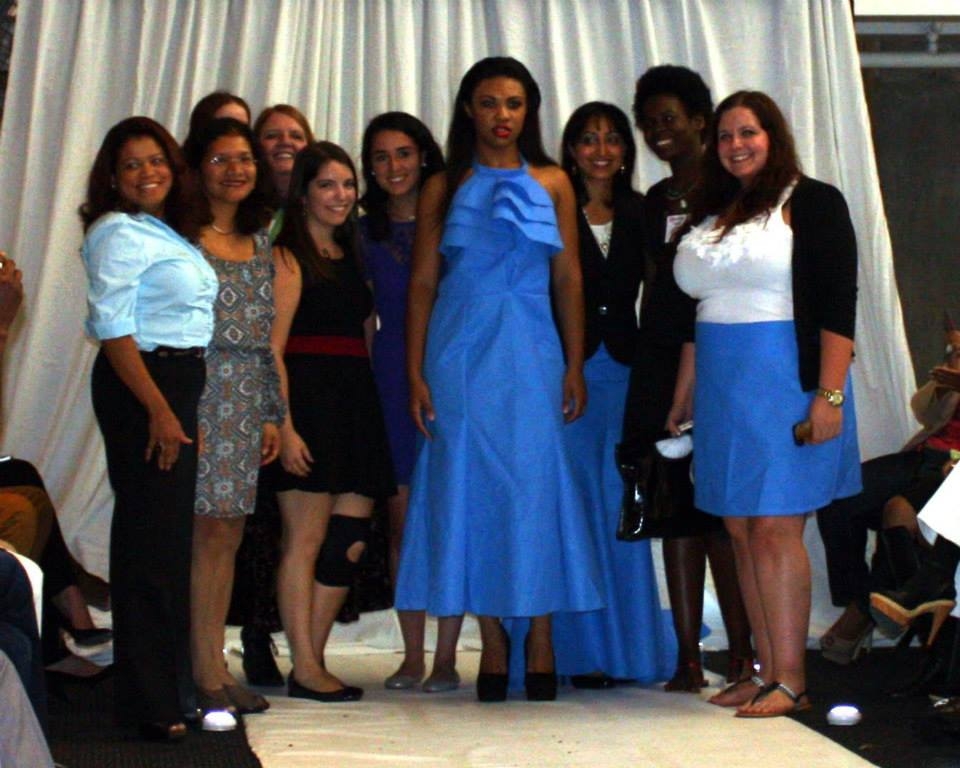 Twelve designs were selected as winners of the 2013 contest and were shown in the opening show of DC Fashion Week's Fall 2013 lineup. Winning designers (in alphabetical order) included:
Jamillah Abdullah
Claribel Almonte
Carolyn Billetdeaux
Brittany Cain
Joanna Del Giudice
Sarah Gingold
Lauren Heather Lay
The Inova Support Group - Marcella Barksdale, Yolanda Bernard, Antoinette DeSouza, Adriana Tapia Telleria, Marisol Zambrana, Carla Medina, Beatriz Ampuero
Judy Omslaer
Lidia Pariona
Sarah Saggiante
Seema Wadhwa
For pictures of the winning 2013 Project Blue Wrap designs, please click here. 
What is "Blue Wrap?"
Blue wrap is a recyclable plastic fabric that is used to maintain the sterility of its contents - most often, surgical instruments and kits. None of the blue wrap used for Project Blue Wrap has ever been in contact with any patients and would otherwise be recycled by Inova.
All of the blue wrap used in Project Blue Wrap is sourced from Inova's Sterile Processing Department (SPD) rather than the operating rooms. It is used to wrap "loaner trays" (trays of instruments that Inova does not have in stock) that come from some of our partners. These trays are sterilized at our partner facilities and are wrapped in blue wrap for transport. Once they reach Inova's SPD, the blue wraps are removed and placed into our recycling stream. This is where they are intercepted by the Office of Sustainability for use in Project Blue Wrap.
The History of Project Blue Wrap
In Fall 2011, Inova's Office of Sustainability partnered with DC Fashion Week to host a Blue Wrap Fashion Design contest, open to Inova employees and competitors from around the country. Project Blue Wrap contestants were challenged to get imaginative with eco-friendly fashion by reusing 'blue wrap' – a sterile material generally discarded as hospital waste – to create a fashion design of their own.
Fourteen winning designs from Project Blue Wrap were featured alongside the works of professional designers in DC Fashion Week's Eco-Fashion Show, the opening show of the Fall 2011 runway lineup. Their designs were then displayed across Inova in a traveling Project Blue Wrap showcase.  These 14 contest finalists used their skills and creativity to demonstrate the endless possibilities of eco-fashion, creating beautiful works of art from disposable pieces of plastic.
Over the next several seasons, the eco-friendly fashions of Project Blue Wrap contestants made their way onto the runways of DC Fashion Week, highlighted alongside the upcycled and eco-friendly attire of professional designers. Inova looks forward to continuing this partnership as we work to identify new, innovative ways to engage our community in joining the future of health.
Pocket Eco-Fashion Guides