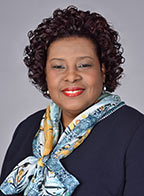 Dr. Alquietta L. Brown serves as Vice President, Nursing for Inova Behavioral Health Services as well as Chief Nursing Officer for Inova Mount Vernon Hospital.
As an accomplished and versatile senior nursing executive, she oversees and manages all nursing functions for Inova's behavioral health service line. She also has a broad range of experience in academic medical sectors.
Before joining Inova, Alquietta served as the Assistant Vice President of Nursing and Patient Care Services Division at MedStar National Rehabilitation Hospital (MNRH), where she managed many departments including nursing operations, nursing excellence, education, hospital transportation, sterile processing, infection control, dialysis, staffing, nursing leadership and patient care finance. Before this, she held various appointments at MNRH and served as a Clinical Nurse Manager at Howard University Hospital.
Alquietta served during Operation Desert Storm as a Battalion Adjutant in the United States Army and was a recipient of the Army Accommodation and the National Defense Service Metal.
Dr. Brown received her doctorate in health services administration with a focus in healthcare management and policy from Walden University in Minneapolis. She earned a master's degree in health services administration from Strayer University in Alexandria, VA and a bachelor's degree in nursing at Howard University in Washington, DC.