Is it Safe to Come to the ER during the COVID Crisis?
If you are experiencing a medical emergency, do not be afraid to come to the hospital for immediate care. Our Emergency Rooms are open for all patients and remain a safe place to seek care.
During this time of COVID-19, Inova has implemented additional procedures at all facilities, based on CDC guidelines, to protect the safety of our patients, team members and community. For more details, visit our Safe@Inova page.
Delaying the evaluation, diagnosis and treatment of a potential emergency condition can put you at greater risk – particularly for those with symptoms of stroke and heart attack.
Conditions That Warrant an ER Visit
There may be some reasons for waiting to visit a doctor right now, but some symptoms can't wait. Life-threatening conditions that cause severe symptoms or put your health at serious risk require a visit to an emergency room. These include:
Suspected heart attack or stroke
Extreme difficulty breathing
Severe bleeding or serious cuts
Broken bones
Poisoning
Acute abdominal pain
Severe allergic reactions
Minor burns and lacerations
Minor trauma, including sprains and broken bones
On-the-job accidents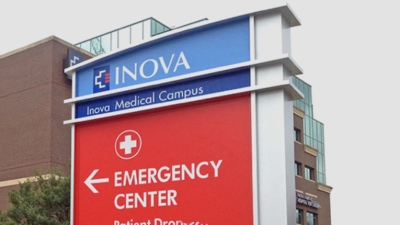 Inova Emergency Services Is Here For You
Inova emergency physicians and healthcare professionals provide state-of-the-art emergency care to nearly 400,000 patients every year. We are ready to serve you and your family 24 hours a day, seven days a week, at eleven different locations throughout Northern Virginia.
For the most traumatic, life-threatening situations, Inova Fairfax Hospital is Northern Virginia's only level I trauma center. Inova Trauma Center provides the highest level of specialized care possible to both adults and children. Inova Loudoun Hospital has the only dedicated children's emergency room in Loudoun County.
We understand coming to the ER during this uncertain time can be confusing and even a little scary. Rest assured, Inova is committed to providing safe, quality care when you need us most. To learn more about our safety measures visit Safe@Inova.