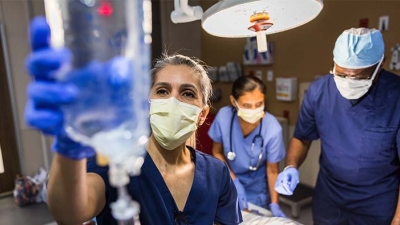 In a Life-Threatening Emergency, Call 911.
Inova's Trauma and Acute Care Surgery (TACS) departments provide comprehensive, around-the-clock care for trauma, surgical critical care and emergency general surgery patients. Our teams are comprised of highly trained, expert providers including physicians board certified by the American Board of Surgery in general surgery and surgical critical care.
Inova Fairfax Hospital is Northern Virginia's only Level 1 Trauma Center, and Inova Loudoun Hospital is Loudoun County's first and only designated trauma center.
Frequently Asked Questions (FAQ) About Trauma and Acute Care
What is a Trauma Surgeon / Trauma Acute Care Surgeon?
Trauma surgeons / Trauma acute care surgeons are fellowship trained and board certified in both general surgery and surgical critical care. Inova's trauma surgeons have vast experience in the management of serious traumatic injuries and focus on customized care for each patient.
What Does It Mean to Be a Trauma Patient?
A trauma patient has had sudden and severe physical injuries, "traumatic injuries", requiring immediate medical attention.
What is Acute Care Surgery?
Acute Care Surgery takes the fundamentals of trauma care with its team-based approach and continuous quality improvement and applies them to patients with urgent surgical conditions.
Patient Care
We provide around-the-clock intensive care unit management of patients with critical illness. In addition, we routinely treat patients with general surgery needs such as:
Biliary disease
Appendix disease
Hernia
Endocrine conditions
Upper and lower endoscopy needs
Rather than being treated by a single practitioner, patients are treated by a team of experienced surgeons, providing multidisciplinary care in both in-patient and out-patient settings. We work with surgeons throughout Inova's surgical specialties to provide our expertise in critical care situations.
Research and Affiliations
The Trauma Acute Care Surgery team participates in clinical research and multi-institutional trials to improve patient outcomes regionally and nationally. Our surgeons participate as committee members of national organizations including the American College of Surgeons Committee on Trauma, American Association for the Surgery of Trauma, American Trauma Society, Panamerican Trauma Society, Eastern Association for the Surgery of Trauma, Society of Critical Care Medicine, Surgical Critical Care Program Directors Society, and Western Trauma Association.
Ambulatory Clinics for Follow-Up Appointments and Outpatient Surgeries
Division and System Chief, Trauma and Acute Care Surgery
Trauma Medical Director – Fairfax
Inova Trauma Acute Care Surgery Team - Fairfax