A Reputation for Excellence
Inova Loudoun Hospital is a nationally recognized, advanced community hospital with a rich history. We've been proudly serving our diverse community for more than a century and are committed to providing comprehensive, compassionate care for the entire family.
CMS 5-Star Award
Inova Loudoun Hospital earned five out of five stars for quality by the Centers for Medicare & Medicaid Services (CMS), an independent government agency.
This recognition was earned through a rigorous analysis of 57 patient care standards that we exceed every day. It's Inova's ongoing commitment to personalized medicine that leads to better outcomes for our patients.
Plan Your Visit: Inova Loudoun Hospital
Visiting Hours
For hospitalized patients, visitation hours are 8 a.m. to 11 p.m. daily. Patients may have two visitors at a time (ages 12+) during visitation hours. Minors must be accompanied by an adult (for pediatrics that adult must be a parent or caregiver) at all times.
Directions & Parking
Inova Loudoun Hospital offers free and ample parking on our campuses for patients, visitors, staff and physicians. Commuter parking on our campuses is prohibited.
Temporary Changes to Valet and Shuttle Services
Due to COVID-19 restrictions, our complimentary campus shuttle services have temporarily been suspended.
Valet Services are temporarily suspended.
North Tower
The Birthing Inn is now located in the North Tower. All OB patients and visitors should park in the North Parking Garage or North Parking Lot and enter the hospital at the North Tower entrance.
Download our Preparing for Your Delivery at Inova Loudoun Hospital guide.
Parking
In preparation for your next visit, please download our Inova Loudoun Hospital Campus Map. Please follow the campus signs to help navigate you to the right department or office:
North Parking Garage: Patients and visitors of the North Tower (including The Birthing Inn and Inova Schar Cancer Institute), Emergency Room and the 44035 physicians' office building, which contains the Inova Heart and Vascular Institute – Schaufeld Family Heart Center; Inova Radiation and Oncology Center; Outpatient Specialty Rehabilitation Center; and Inova Loudoun Surgery Center – Lansdowne (Outpatient).
North Parking Lot: Patients and visitors of the North Tower (including The Birthing Inn and Inova Schar Cancer Institute) and the 44035 physicians' office building
South Hospital Parking Lots: Patients and visitors of the main hospital, Natural Birth Center, and 44055 physicians' office building.
Handicapped Parking
Designated handicapped parking is available in front of every building on campus.
Public Transportation
Bus Service: Loudoun Transit
Monday – Friday, 7 a.m. – 7 p.m.
540-338-1610 / 1-877-777-2708
Taxi Service
Staff at the information desk can help you arrange taxi service. Frequently used taxi services include:
Other Transportation Options
The following transportation services are also offered. Staff at the information desk can provide more information.
Food
Patient Meals
Nutritional services are available 24 hours a day, seven days a week. During the admission process, the nurse will ask you questions about your diet and eating habits. If you have any concerns or questions, please talk to your nurse about them and she/he will consult with your physician and dietitian if necessary.
Special diet requests are honored and prepared by our kitchen for patients with conditions such as diabetes, heart, kidney and liver disease and/or for patients who have religious, cultural or individual preferences, such as vegetarians.
Inova Loudoun Hospital Cafeteria
Our cafeteria is located at the east end of the hospital's main entrance hall. Hot and cold food and snacks are available during the following hours:
Breakfast, 6:30 – 10:30 a.m.
Hot food/grill, 7:30 – 10 a.m.
Lunch, 11:15 a.m. – 2 p.m.
Grab and go, 2 – 4:15 p.m.
Dinner, 5 – 7 p.m.
Night meal (M-F), 1 – 2:30 a.m.
Caribou Coffee
There is a Caribou Coffee cart located in the cafeteria offering specialty coffee drinks and an assortment of baked goods. The cart is open:
Monday – Friday, 6:30 a.m. – 4:30 p.m.
Saturday and Sunday, 6:30 a.m. – 3 p.m.
Vending Machines
Vending machines are available 24 hours a day. They are located throughout the hospital.
Visitors are also welcome to complimentary coffee available throughout the hospital.
Gift Shop
Inova Loudoun Hospital Gift Shop, operated by the Ladies Board, is conveniently located on the first floor near the information desk. The shop carries a wide variety of gifts, including handbags, jewelry, scarves, popcorn shirts, stuffed animals, games, magazines, cards, candy, flowers and a small selection of toiletry items.
Hours of Operation:
Monday – Friday, 10 a.m. – 4 p.m.
Saturday, 11 a.m. – 1 p.m.
Sunday, Closed
Closed on major holidays. Please visit https://ladiesboard.org/gift-shop for more information.
Chaplain / Spiritual Care
Inova Loudoun Hospital Chaplaincy Services
A supportive presence in time of need.
We Listen. We Care. Every time, Every touch.

703-858-8462
Chaplaincy Services at Inova Loudoun Hospital offers:
Prayer and comfort prior to surgery
A caring presence and empathetic listening at the bedside
Assistance with specific religious needs during your hospitalization
Prayers, blessings, meditations, healing touch, guided imagery
Support for family and friends

How to contact us during regular business hours:
(Monday - Friday, 8:30 a.m. – 5 p.m.)
If you are a patient, tell your nurse or any member of your healthcare team that you would like to see a Chaplain. It is best to have a healthcare provider contact us on your behalf. You may also reach us by calling extension 8462 from a hospital phone or 703-858-8462 from an outside phone.
How to contact us evenings (Monday – Friday, 5 p.m. – 8 a.m.) & Weekends
Emergencies only; please ask a nurse to contact us.

Visit the Lisa Dugan Chapel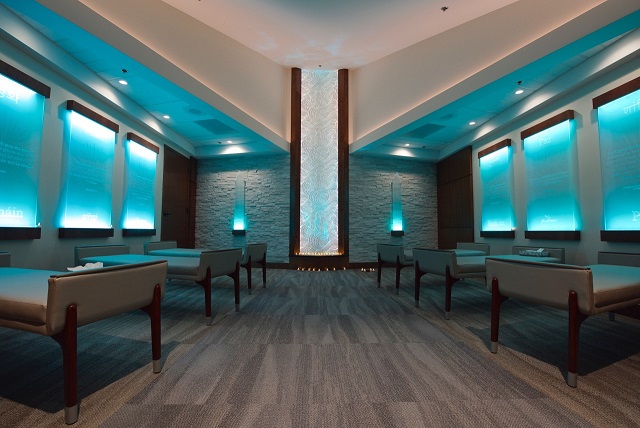 Located on the first floor of the hospital, the Lisa Dugan Chapel is open for prayer, meditation and reflection. Write prayers and thoughts in the Chapel Book, light a battery operated candle, help yourself to prayer rugs.
This newly remodeled interfaith chapel is named for Elizabeth "Lisa" Dugan, PhD, RN, MBA, MSN, NEA-BC, an inspiring leader and nurse at Inova Loudoun Hospital from 1995-2017. A devoted wife and mom of four beloved children, she touched the lives of patients, employees and fellow nurses alike before losing a valiant battle with cancer in 2017. The design of the chapel honors Lisa's life—the art of healing, her love and dedication to this community, and her rich faith. Her lasting legacy is reflected in the chapel's use of light, water imagery, and peace.
Join the Inova Loudoun Chaplaincy Team
Are you interested in becoming an interfaith chaplaincy services volunteer? We may be the answer to your call to become engaged in spiritual work in the larger community. Our volunteers visit at the bedside and actively listen to our patients. Initial training and continuing education strengthen your gifts. Call 703-858-8462 and speak to our Chaplaincy Manager about this important ministry.
Emergencies come at all times; we need local clergy to join our team. Our Chaplaincy Services program extends the reach of our Chaplain through community faith leaders who volunteer in on-call chaplain program. On-call Chaplains are available for emergencies in the evenings and weekends. Essential training and continuing education sharpen your gifts and skills for spiritual care. Talk to our Chaplaincy Manager if you would like to make a difference in the larger community.
Support Our Chaplaincy Efforts
Chaplaincy Services is supported through philanthropic efforts of churches, faith groups and individuals. If you are interested in supporting this ministry please call us at 703-858-8462.
Smoking Policy
In keeping with our mission to improve the health of the diverse community we serve, Inova Health System has put in place a tobacco-free policy. The policy bans tobacco use of any kind in our facilities and anywhere on our grounds, and applies to everyone, including our patients, visitors and team members. In adopting this policy, Inova joins more than 400 hospitals and health systems nationwide that have similar policies in place.
If you currently use tobacco, we can offer you medicine that will help you not use tobacco while you are a patient at Inova. Please keep in mind that, during your stay here, you may not leave the nursing unit to use tobacco products. If you use tobacco while you are a patient under our care, we may contact your physician to discuss whether you should be discharged. This policy protects you from the ill effects of tobacco use (such as slower healing times) and protects other patients in the hospital from the harmful effects of second-hand smoke.
Please tell your family members and visitors about our policy so that they understand they cannot use tobacco products in our facilities or anywhere on our grounds while they are visiting you. We have signage posted throughout our facilities that also indicates our new policy.
We understand that the decision to use tobacco products is a personal one. We are not asking anyone to quit using tobacco, only to refrain from doing so on our campuses. If you or a loved one would like assistance with quitting, we can help. Please ask our team members about Inova's tobacco-cessation resources.
Thank you for your compliance with our tobacco-free campus policy.
Services Offered at Inova Loudoun Hospital