At Inova, we provide nurturing, expert healthcare to women at every age and stage of life. Our highly skilled specialists are leaders in women's care across the lifespan – from childbirth and reproductive services, to pelvic health, heart health, behavioral health and other medical conditions that affect women differently than men. Our compassionate, holistic approach considers everything from diagnosis and treatment through recovery, including psychological support, nutrition, lifestyle changes and other therapies.
As part of the award-winning Inova Health System, we stay at the forefront of clinical developments, medical research and advanced therapies to deliver the highest level of care and personalized, effective treatment.
Among the Best in the Nation for Neonatology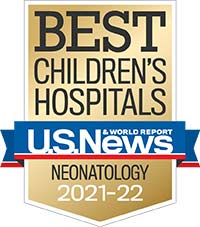 Inova L.J. Murphy Children's Hospital has been named one of the Top 50 Hospitals in the United States for neonatology care by U.S. News and World Report.
The U.S. News team generates annual hospital rankings by evaluating data on nearly 5,000 hospitals. Being nationally ranked in a specialty means that a hospital must excel in caring for the sickest, most medically complex patients.