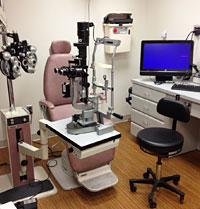 The Inova Lions Eye Clinic provides free eye care to uninsured adult patients who are at or below 400% of the FPL. Clinic patients must be referred by a local FQHC or community safety net partner.
The clinic is staffed with a bilingual receptionist, an ophthalmic technician and a part-time, employed ophthalmologist. In addition, numerous volunteer specialist physicians help care for our patients.
The Inova Lions Eye Clinic provides free comprehensive ophthalmic care, including laser, medical and surgical care for all types of conditions of the eye.
The clinic is supported by Inova as part of its Community Safety Net initiative and also receives annual support from the Virginia Lions Eye Institute Foundation. Established in 1974, the clinic currently provides more than 2,700 free visits to uninsured patients each year.