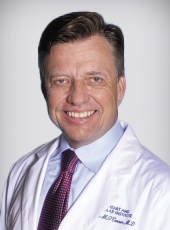 Christopher M. O'Connor, MD, MACC, FESC, FHFSA, FHFA, joined Inova as the chief executive of the Inova Heart and Vascular Institute (IHVI) in April 2015. In this role, Chris directs IHVI's system-wide cardiovascular strategy, expanding the clinical, research and education programs of the Institute, and recruiting notable cardiac and vascular professionals to further the Institute's stature as a national and international cardiovascular leader.
Chris returned to the Washington, DC, area after 31 years at Duke University Medical Center in Durham, North Carolina. While at Duke, his research earned him worldwide recognition as an authority on heart failure. Most recently, he served at Duke as the Richard Stack Distinguished Professor of Medicine, Chief of the Division of Cardiology and Director of the Duke Heart Center.
Having led more than 20 clinical trials and published at least 400 manuscripts, his work has uncovered links in how mood disorders and stress affect heart disease, and also has led to insights into pharmacologic and non-pharmacologic therapies to treat heart failure.
Chris earned a Bachelor of Science degree in chemistry from the University of Maryland College Park and his medical degree from the University of Maryland Medical School in Baltimore. He went on to Duke to complete his internship, residency, chief residency and cardiology fellowship. He serves as Editor-in-Chief for the Journal of the American College of Cardiology: Heart Failure, and serves on the editorial boards for several other journals, including the New England Journal of Medicine and the Journal of the American Medical Association.