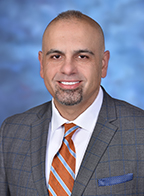 Ibrahim "Pete" Hanna, MD, FACS is Chief Medical officer of Inova Mount Vernon Hospital.
Prior to joining Inova, Dr. Hanna was chair of the Department of Surgery and a member of the Executive Leadership Team at LifeBridge Grace Medical Center, previously Bon Secours Baltimore Health System. During his tenure, the Department of Surgery achieved 100% SCIP compliance, as well as the highest physician engagement scores across the health system. His previous roles at Bon Secours include Senior Director of Health Informatics at the Enterprise Health System level.
With a special interest in healthcare equality, Dr. Hanna served as Vice Chair of the Board of Trustees at the Maryland Healthcare Education Institute as well as member of the Diversity and Inclusion Advisory Board for the Maryland Hospital Association and the quality board for Healthcare for the Homeless.
Dr. Hanna earned his MBA from the Wharton School at the University of Pennsylvania and his medical degree from the University of Damascus in Syria. He completed his residency in general surgery at Marshall University, Joan C. Edwards School of Medicine, in Huntington, WV.