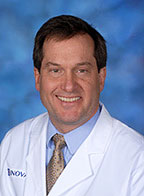 John Deeken, MD, joined Inova in 2013 and currently has more than 18 years of clinical experience in internal medicine and medical oncology. He serves as the President of Inova Schar Cancer Institute (Inova Schar) and Medical Director for the Inova Schar Head and Neck Cancer Program.
John's clinical research focuses on the use of immunotherapy treatments while his laboratory research takes a closer look at understanding the growing epidemic of head and neck cancers caused by HPV. This includes understanding the tumor mutations that are induced by HPV infection and how those tumors can be better treated with targeted therapies. He believes that gaining a better understanding of genomic factors may explain who might be at risk for developing HPV-caused Head and Neck cancer.
John served on the national Head and Neck Cancer Scientific Committee for the American Society of Clinical Oncology (ASCO) and currently serves on ASCO's Government Relations Committee. Prior to joining Inova, he was Director of the Head and Neck Medical Oncology Program at the Lombardi Comprehensive Cancer Center at Georgetown University and Regional Director for Medical Oncology for Medstar Health. He currently serves as Professor of Medicine at the University of Virginia and Virginia Commonwealth University.
He received his Doctor of Medicine from Georgetown University, where he also did his residency in Internal Medicine. He did his fellowship training in Medical Oncology at the National Cancer Institute.
A native of Wisconsin, John is married and has four children.