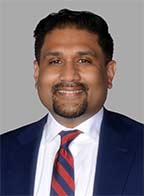 Maruf Haider, MD, serves as VP, Chief Health Informatics Officer at Inova Health System.
An Internal Medicine hospitalist and physician leader, Maruf is committed to creating a care environment of psychological safety and zero harm. He is focused on fostering resilient collaborative care teams who honor patient wishes and goals of care with empathy and compassion. With the technical acumen to lead physicians and clinicians, he believes that patient quality and safety should drive technology to organize, analyze, manage, and use information to improve healthcare. Patient engagement, tech resiliency, data literacy and developing physician leaders are of particular importance. Maruf has been a national presenter on Informatics and health IT topics and actively practices hospital medicine at Inova.
Maruf earned bachelor's degrees in environmental sciences and biology from The George Washington University, and a medical degree from The Royal College of Physicians in Ireland. He completed his residency and chief resident year at the University of Vermont and served as a Research Fellow at the National Institutes of Health.