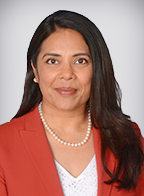 Rina Bansal, MD, MBA, joined Inova Alexandria Hospital in January 2016 as the Chief Medical Officer and was named President in May 2019. 
She was in the inaugural class of McGill University's MD-MBA program. She obtained both a Doctorate in Medicine and a Master's in Business Administration in 2001. Subsequently, she completed her Internal Medicine Residency Program at University of California, San Francisco.
Rina joined Inova Fairfax Hospital's Department of Medicine in 2008 as a Hospitalist. In October 2010, she joined the Department of Neurosciences to create and lead the CNS Hospitalist Program. As the Medical Director of the CNS Hospitalist Program, she implemented many initiatives that improved continuity and coordination of care for the neurosciences patients thus improving quality, safety and throughput. In February 2014, Rina assumed the role of Interim Chief Medical Officer for Inova Fairfax Medical Campus. In May 2014, she transitioned to be the Associate Chief Medical Officer of Inova Fairfax Medical Campus. She also served as the Medical Director of the Inova Telemedicine Program.
Rina's passion is to serve the community and optimize every patient's health and wellness. She has presented her work in Quality Improvement at several international and national conferences.