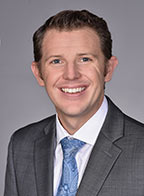 Sean McCleary is Vice President of Professional Services and Administrator of Inova's clinical platforms service line. In this role, Sean is responsible for leading and executing strategic and operational priorities across diagnostic imaging, interventional radiology, clinical and anatomic pathology, pharmacy, respiratory therapy, clinical nutrition and blood donor services.
Sean earned his bachelor's degree from Brigham Young University in Provo, UT, and a master's degree in Healthcare Administration from the University of Minnesota in Minneapolis, MN.
After graduating from the University of Minnesota in 2012, Sean joined Bon Secours Richmond Health System, where he held an administrative fellowship position at St. Mary's Hospital. Sean held numerous positions during his eight-year tenure with Bon Secours until he joined Inova Health System in March 2020 as the Vice President of Imaging and Laboratory Services.
Sean resides in Fairfax, VA, with his wife and four children. In his time away from work, Sean enjoys coaching youth sports, running, golfing and spending time with family.