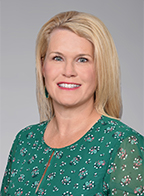 Susan Carroll, FACHE, MBA, MHA, is President of Inova Fair Oaks Hospital, succeeding Dr. Donald Brideau in the role as of May 1, 2020.
Susan also serves as Senior Vice President, Inova Health System and Administrator, Inova Clinical Platforms.
In these role, Susan provides leadership to the Platform Service lines including planning, development and administration for the following services within the Clinical Enterprise: Diagnostic Imaging, Interventional Radiology, Lab, Occupational Therapy, Pathology, Pharmacy, Physical Therapy and Speech Therapy.
Additionally, Susan provides daily direction and operations for the system-wide functions of Supply Chain management, Security and Emergency Management, Facilities Management, Real Estate, Design and Construction, Patient Support Service contracts and the development of the ICPH campus. Susan is uniquely qualified for this key role as a highly accomplished health system executive with more than 20 years of experience with Inova across many hospitals and care delivery sites.
Susan's range of experiences include her most recent role as Acting President of Inova Fairfax Medical Campus; Regional Executive Officer, Eastern Region and CEO, Inova Alexandria Hospital. Susan started her career with Inova as Director of Business Affairs at Inova Loudoun Hospital.
Susan holds a Master of Health Administration from Ohio University and a Bachelor of Arts in Social Science and Finance from Radford University.
She lives in Ashburn with her husband, Matt, and their two boys, Turner and Cooper. The family enjoys traveling, skiing and spending time keeping busy with the boys' sports activities.