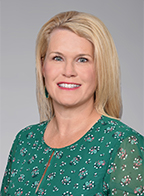 Susan Carroll, FACHE, MBA, MHA, serves as President of Inova Loudoun Hospital and Sr. Vice President of Inova Health System.
Additionally, Susan provides daily direction and operations for the system-wide functions of Supply Chain Management, Security and Emergency Management and Patient Support Service. Susan is uniquely qualified for these key roles as a highly accomplished health system executive with more than 24 years of experience with Inova across many hospitals and care delivery sites.
She began her career at Inova Loudoun Hospital in 1996 as Director of Business Affairs eventually rising to the level of Chief Operating Officer in 2005. Since then, she has been Vice-President of the Inova Cancer Service Line, CEO at Inova Alexandria Hospital, Chief Executive Officer of the Eastern Region, Interim President of Inova Fairfax Hospital and President of Inova Fair Oaks Hospital.
Susan holds a Master of Health Administration and a Masters of Business Administration from Ohio University and a Bachelor of Arts in Social Science and Finance from Radford University. In 2021, Susan joined the Board of Trustees at Shenandoah University. Susan has served on various community boards over the years including the Loudoun Free Clinic, Children's Science Center and the Loudoun Credit Union.
She lives in Ashburn with her husband and their two boys. The family enjoys traveling, skiing and spending time keeping busy with the boys' sports activities.