Proton Therapy Case Study: Breast Cancer
Recurrent invasive ductal carcinoma of the breast with contralateral axillary relapse
History
The patient is a 66-year-old female initially treated in 2012 with lumpectomy, sentinel node biopsy, adjuvant chemotherapy and adjuvant whole breast/regional nodal radiotherapy for pT1N1M0 right invasive ductal carcinoma. She remained without evidence of disease for several years after this initial treatment.
Presentation and Examination
Approximately seven years later, the patient presented with right breast pain and nipple itching, as well as a mass in the contralateral left axillary area.
Biopsies of both sites confirmed recurrent invasive breast cancer of both the right breast and left axillary areas, ER+, PR+, Her2-. Review of pathology from both sites suggested the same malignancy and was consistent with recurrence of her initial cancer from 2012.
MRI of the breasts revealed nipple retraction and a 2 cm mass on the right, with axillary adenopathy on the left.
A staging CT and bone scan did not demonstrate any evidence of distant metastatic disease.
Diagnosis
Locoregional recurrence of invasive breast carcinoma, including recurrence within the previously irradiated right breast and the contralateral axilla.
Surgery
To achieve local control, the patient underwent a bilateral mastectomy (removal of both breasts) with left axillary dissection in January 2020.
Pathology
Pathology from the right breast revealed a grade 2 infiltrating ductal carcinoma with lobular features of the right breast, 2.6 cm in greatest dimension, with final clear margins, with extensive lymphovascular invasion. The left breast did not contain any cancer, but the left axilla revealed that 12 out of 15 lymph nodes were positive for cancer. The largest deposit was 1.5 cm, with extracapsular extension.
Treatment Challenges
Based on the presence of 12 malignant lymph nodes in the left axilla and the probable route of spread through the lymphatic system, the patient remains at significant risk of further relapse of cancer in her left chest wall and regional lymph nodes, including internal mammary, axillary and supraclavicular stations.
Covering these extensive areas posed two major challenges:
Potential significant exposure to the heart and lung in order to adequately cover the medial left chest wall and internal mammary lymph nodes.
Potential overlap of her previous right breast radiation fields from 2012, increasing the risk of wound-healing, fibrosis of the soft tissue or rib fracture.
Postsurgical Treatment Plan
Proton therapy was utilized to cover the left chest wall, internal mammary, axillary and supraclavicular regional lymph nodes to 50 Gy in 25 fractions over five weeks. Proton therapy allowed for coverage of the above targets, with minimal to no overlap of previous right breast tangential radiation therapy fields.
The sparing of the heart using proton therapy can be seen in these captured images: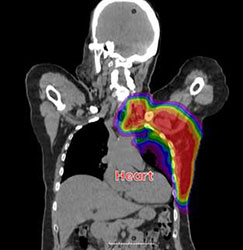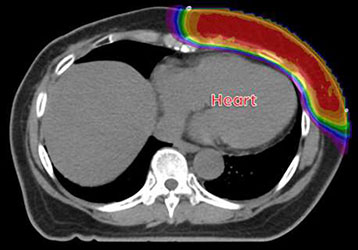 For comparison, a typical photon breast cancer treatment (represented by blue color wash) shows a low-dose radiation spread in the heart: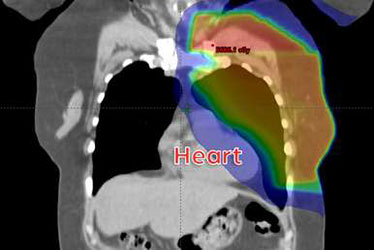 Key Takeaways
Proton therapy allowed for full coverage of the areas of risk, with remarkable sparing of the cardiac (heart) tissue, due to lack of an exit dose.
The mean heart dose was substantially lower than what could have been achieved with any other radiotherapeutic technology available today.
The lung dose was also extremely low.
Coverage of the high-risk targets described above was achieved with precision, on a daily basis.