PGY-1 Residents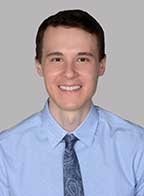 Nicholas Jameson
Residency Year: 2020-2021
Pharmacy School: West Virginia University
Practice Areas of Interest: Critical Care and Infectious Disease
Reason for coming to Inova Mount Vernon: I was drawn to Inova Mount Vernon because of the required rotations in critical care, infectious disease, and emergency medicine. Because Inova Mount Vernon is a small community hospital, I am able to build personal relationships with providers and positively impact patient care. I love the supportive environment of the pharmacy team at Inova Mount Vernon. I am confident this program will provide me a solid foundation for success as a clinical pharmacist.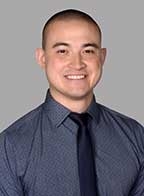 William Lafon Jones
Residency Year: 2020-2021
Pharmacy School: University of Maryland School of Pharmacy
Practice Areas of Interest: Critical Care, Infectious Disease, and Psychiatry
Reason for coming to Inova Mount Vernon: I've always known I wanted to practice at a smaller hospital. Some of those reasons include having more personal intra- and interprofessional relationships and feeling closer to the immediate community. I was excited to learn about the opportunity to have rotations at neighboring hospitals to help diversify my pharmacy education and experience. In addition to knowing that residency here allows me to achieve my professional goals, our pharmacy staff is very kind and extremely supportive of each other – an absolute must in residency!
Past Residents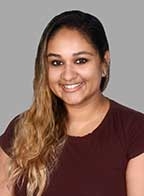 Manisha Gokhale, PharmD
Residency Year: 2019-2020
Hometown: Centreville, VA
Pharmacy School: Virginia Commonwealth University
Continuing Education (CE) Lecture: What's New and Shocking in Psychiatry?
Longitudinal Research Project: Optimization of antibiotic duration for community-acquired pneumonia patients in a community hospital
Post-Residency Position: Staff pharmacist at Inova Mount Vernon Hospital
Jenna Pham, PharmD
Residency Year: 2019-2020
Hometown: Virginia Beach, VA
Pharmacy School: Virginia Commonwealth University
Continuing Education (CE) Lecture: Management of Prosthetic Joint Infections
Longitudinal Research Project: Impact of pharmacist intervention on the safety of bridging anticoagulation in a community hospital
Post-Residency Position: Staff pharmacist at Inova Alexandria Hospital
Kristina (Dogoda) Burroughs, PharmD
Residency Year: 2018-2019
Hometown: Tampa, FL
Pharmacy School: University of South Florida
Continuing Education (CE) Lecture: Direct Oral Anticoagulants in Cancer-Associated Venous Thromboembolism
Longitudinal Research Project: Prevention of 30-day Pneumonia Readmissions in a Community Hospital
Post-Residency Position: University of Pittsburgh Medical Center (UPMC) Presbyterian PGY2 Solid Organ Transplant
Kacy Terry, PharmD
Residency Year: 2018-2019
Hometown: Fredericksburg, VA
Pharmacy School: Shenandoah University
Continuing Education (CE) Lecture: Neuromuscular Blockers: Controversial Usage and Reversal
Longitudinal Research Project: Impact of Pharmacy-Completed Medication Histories on the Prevention of Severe Hypoglycemia
Post-Residency Position: Staff Pharmacist at Spotsylvania Regional Medical Center and Novant Health UVA
Jola Dyrmishi, PharmD, BCPS
Residency Year: 2017-2018
Hometown: Tirana, Albania
Pharmacy School: University of Maryland
Continuing Education (CE) Lecture: Dosing of Vancomycin in Peritoneal Dialysis (PD) and Continous Renal Replacement (CRRT)
Longitudinal Research Project: Development of a risk-assessment tool to predict vancomycin-induced nephrotoxicity in hospitalized adults
Post-Residency Position: Staff Pharmacist at Inova Alexandria Hospital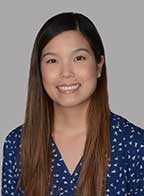 Tina Pho, PharmD, BCPS
Residency Year: 2017-2018
Hometown: Fort Washington, VA
Pharmacy School: Shenandoah University
Continuing Education (CE) Lecture: Opioid Safety in High Risk Patients
Longitudinal Research Project: Development of a risk-assessment tool for the prevention of opioid-related harm
Post-Residency Position: Staff Pharmacist at Inova Mount Vernon Hospital
Katie (Muha) Deere, PharmD, BCPS
Residency Year: 2016-2017
Hometown: Millersville, MD
Pharmacy School: Virginia Commonwealth University
Continuing Education (CE) Lecture: Assessing Current Literature Supporting Medication Administration
Longitudinal Research Project: Impact of pharmacist participation in rapid response and code event teams in a community hospital
Post-Residency Position: Clinical Pharmacist at University of Maryland St. Joseph Medical Center
Marilyn Hill, PharmD
Residency Year: 2016-2017
Hometown: Oxnard, CA
Pharmacy School: Shenandoah University
Continuing Education (CE) Lecture: Ensuring Safe and Appropriate Darbepoetin Alfa Usage
Longitudinal Research Project: Establishing standard work to prevent readmissions for core diagnoses patients
Post-Residency Position: Clinical Pharmacist at Los Robles Regional Medical Center