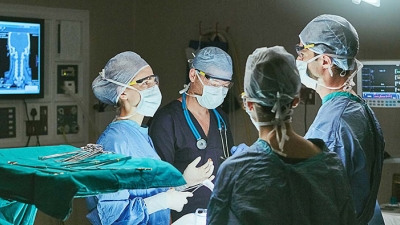 Earn while you learn!
10-Month, Full-Time Program
Inova's Interventional Radiology Technologist Training Program offers hands-on training, a didactic lecture series, a skills lab and vascular interventional radiology (IR) board preparation for radiology technologists interested in pursuing advanced certification and a career in IR.
Earn while you learn – enjoy full-time benefits and pay during your training.
Train at Northern Virginia's only Level I Trauma Center where you will be exposed to a spectrum of cases ranging in complexity.
Continue as a full-time Interventional Radiology Technologist at an Inova hospital upon program and IR board certification completion.
What You'll Learn
During clinical rotations at Inova Fairfax Medical Campus, students will have the opportunity to scrub, circulate and monitor IR and operating room procedures in varying specialties including:
Peripheral vascular
Neurological
Venous access
Genitourinary
Gastrointestinal
Nonvascular
Thoracic/abdominal/pelvic
Other related skills
Lecture and hands-on workshop topics will include:
IR basics
Patient care
Pharmacology
Interventional equipment
Imaging procedures
Imaging production
Board review
Hours and Clinical Requirements
Earn while you learn! This nine-month program is a full-time position. Students must complete a minimum of 5 weekend and 20 weekday on-call shifts to complete the program.