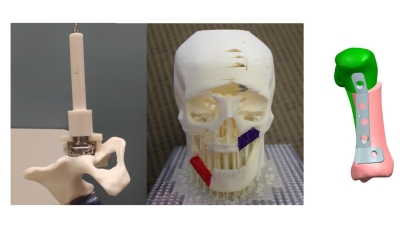 What is 3D Printing for Medical Use?
3D printing (3DP) or additive manufacturing is a process of making three-dimensional solid objects from a computer model. In the process an object is created by laying down successive layers of material until the object is created. Each of these layers can be seen as a thinly sliced cross-section of the object. 3D printing can quickly produce complex shapes using less material and fewer machining than traditional manufacturing methods. In the medical field, 3D anatomic models are printed based on patients' imaging results, such as CT or MRI scans.
The Advanced 3D Technology Laboratory on the Inova Fairfax Medical Campus has four 3D printers capable of producing multi-color and multi-material anatomic models for patient care, high-strength prototypes for medical training and research, and biosafety models for medical supplies and surgical guides. In some cases, 3D printed models can be replaced by Extended Reality (XR).
In 2020 we acquired a digital light processing (DLP) 3D printer, which uses biocompatible certified materials, to produce COVID-19 supplies such as nasal swabs and respiratory adaptors. The printer is then used to produce various medical devices, such as dental and orthodontic surgical guides.
Precise Anatomic Modeling for Better Patient Outcomes
Patients undergoing new, uncommon or complex surgeries may benefit from 3D printed anatomic models, which can help surgeons to better understand the patient's complicated pathology and plan the surgery preoperatively. These models also help patients and families better understand the disease and surgical procedure. Studies in peer-reviewed medical journals show that the use of personalized 3D printed models improves surgical outcomes.
Examples of 3D Technology Use at Inova
At Inova, 3D printed anatomic models have been successfully used in many specialties for personalized care. Dr. Lucas Collazo used 3D models to observe pediatric patients' heart defects and optimize surgical plans. Dr. Simon Chung used 3D models to study the spatial relationship among kidney tumors and adjacent blood vessels and urine duct. Dr. James Piper and Dr. Maria Albano used 3D models to identify the location of pancreatic tumors and reported the models can significantly reduce OR time for tumor biopsy. Dr. Nilesh Vyas used 3D models to compare several surgical plans for a complex brain tumor surgery.
Recently the lab has been working with radiologists Dr. David Spinosa and Dr. Melany Atkins to print surgical guides for Physician Modified Endovascular Graft (PMEG) that aims to cure patients with abdominal aortic aneurysm.
Medical Training and Research
Inova's ASTEC center provides simulation-based training services to:
Inova's various residency and medical student programs
Licensed professionals needing advanced training or education for maintenance of certification
Multidisciplinary surgical teams' collaboration training
When a simulation model or instrument is unavailable or cost-prohibitive for a specific training, the Inova Advanced 3D Technology Laboratory has been able to work with surgeons and trainers to design and print various pathologic models, simulation models and instruments to improve the fidelity and immersion of surgical simulations.
We fully support Inova PI's (surgeons, radiologists, residents and researchers) innovative ideas to improve surgical outcomes, invent new surgical guides, implants or instruments, and design new surgical approaches for complex cases. Besides 3D printing services, we provide support on grant writing and project management. Our collaborations have breed many research grants, patents and publications.