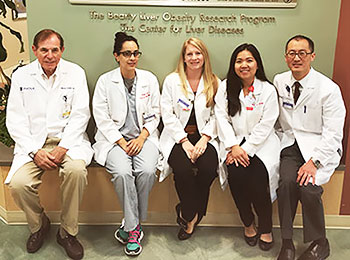 The Betty and Guy Beatty Center for Integrated Research conducts clinical trials of new medications for the treatment of liver disease. The Outpatient Research Clinic is located on the third floor of the Claude Moore Health Education and Research Center building on the Inova Fairfax Medical Campus. The expertise of our staff allows us to perform Phase II through Phase III clinical trials.
The goal of conducting clinical research is to provide individuals with chronic illnesses access to the latest advances in medical research. Patient safety and adherence to study protocols are of highest importance at the research center.
Our experienced investigators and personnel perform phlebotomy, specimen processing, ECGs, drug administration, dispensation and handling of specimen packaging, shipping and storage. The unit is also equipped with a pharmacokinetic suite where patients can remain on-site for up to 12 hours at a time.
Current Open Trials
The RESOLVE-IT Study
Phase 3 Study to Evaluate the Efficacy and Safety of Elafibranor Versus Placebo in Patients With Nonalcoholic Steatohepatitis
Sponsored by Genfit
For trial details, visit www.clinicaltrials.gov/NCT02704403
The AURORA Study
Phase 3 Study for the Efficacy and Safety of cenicriviroc for the Treatment of Liver Fibrosis in Adults With NASH
Sponsored by Tobira Therapeutics, Inc.
For trial details, visit www.clinicaltrials.gov/NCT03028740
The NAFLD/IR Study
This investigator-sponsored trial evaluates the effect of individualized lifestyle intervention in non-diabetic patients with NAFLD.
Sponsored by Inova Outcomes Research
For trial details, visit Inova Outcomes Research
If You Are Interested, Contact: