Age 47, Size 8
99 lbs lost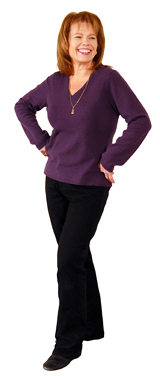 November 14, 2006 was the first day of my improved and very healthy new life! I will never forget that particular Tuesday when I received mini-incision gastric bypass surgery.
The surgery gave me an invaluable tool – my new, very small stomach – which since then I have used to lose a significant amount of weight.
My new healthy lifestyle regimen includes:
Listening to a superior nutritionist and nutritionist/PA and learning to choose appropriate foods and change my eating habits
Maintaining my new exercise regimen
Regularly attending support groups that give me the extra motivation to stay on track
In all honesty, the months since my surgery have been exhilarating as I watch my body transform and feel great along the journey! I am no longer a person that lives to eat. I now eat to live and am finally at peace with food.
I no longer need hypertension medication because my high blood pressure is gone. I swim laps and work out with machines and go on long dog walks. I love every minute of it! I now have so much energy and am feeling so confident with my new body that I have recently enrolled in a scuba diving class, one of my greatest lifelong desires!
Without a doubt, the secret to my success with gastric bypass surgery is continuing to work within the guidelines set up by my surgeon and his staff, attending support groups and taking advantage of the programs for bariatric patients through Inova Fair Oaks Hospital.