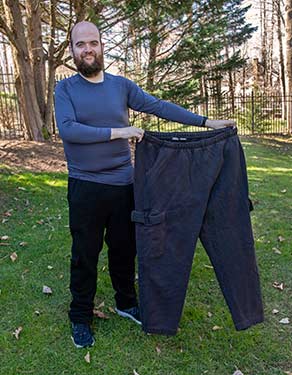 Erik Fones had the idea of weight loss surgery in the back of his mind "for years and years," he says. "But the stigma kept me from moving forward."
That finally changed in 2019, when Fones decided to make his back-of-mind dream a reality. "I have a four-year-old son. I want to be here for him as long as I can," he says.
Fones, now 39, once weighed 374 pounds and suffered from type 2 diabetes. One year after bariatric surgery at the Inova Weight Loss Surgery Program at Inova Fair Oaks Hospital, he's down to 209 pounds. "I'm in the best shape I can ever remember," he says.
Gastric Bypass Surgery: Regaining Control
Fones, a document specialist in the finance industry, often ate to deal with stress and other emotions. "I used food as an emotional crutch. I'd eat a family-size bag of chips and a tub of dip in one sitting, and I wouldn't think twice about doing it," he says.
He wanted to lose weight, but wasn't sure he could do it without help. Then a good friend had gastric bypass surgery at Inova, and highly recommended the program, Fones says.
Gastric bypass surgery reduces the size of the stomach and shortens the length of the digestive tract. After the procedure, patients can eat much less before feeling uncomfortable, and their bodies absorb fewer calories from food. Fones thought the procedure was his best chance at regaining control over his health. "I'd tried fad diets and regular exercise, but I'd always go back to my old habits," he says. "I feel like I needed that physical restriction."
Due to insurance company requirements, he had to spend a full six months preparing for the lifestyle changes to come. During that time, he took educational classes at Inova that covered everything he'd need to know about nutrition, physical activity and how to adapt to the changes after surgery. "The classes were super detailed, and the team walked me through everything, step by step," he says.
Going into surgery, Fones felt totally ready. Still, it was a big adjustment to deal with the dietary limitations after the procedure. "Everyone around me was eating normally, and I had to eat broth and protein shakes. It felt like a burden, but I kept reminding myself that it would be worth it. I kept my eye on the bigger picture," he says.
It didn't take him long to adapt to his new style of eating, and soon those big-picture benefits came into focus. "The best thing is keeping up with my four-year-old. Running around with him has been great," he says. Walking up stairs no longer leaves him winded. He raced in two 5K races last year, and plans on doing at least 3 this year. He also lifts weights and does pullups at the gym, something that he didn't feel comfortable doing before. "Other people make that look easy, but having been big for most of my life, it's never been easy for me," he says. "It's a great feeling to get out and do those things. My confidence has gone through the roof."
One of the biggest benefits: He's no longer dealing with diabetes. "I stopped taking diabetes medications, and my blood sugar is completely under control," he says.
Fighting The Stigma of Weight Loss Surgery
Fones says some people assume that weight loss surgery is the easy way out. But it's definitely not a cakewalk. "I tell a lot of people that bariatric surgery isn't what they think it is. It isn't magic," he says. "It's not the easy way out, but it is the best thing you can do if you're struggling."
For Fones, losing 100 pounds was a major milestone. To celebrate, the huge hockey fan splurged on an authentic jersey from the Pittsburgh Penguins, his favorite team. Fones wears the smaller size with pride, and continues to share his story with anyone who asks about the key to his weight loss success.
"I've always been raised to pay it forward. I want to end the stigma that comes with bariatric surgery," he says. "If I can motivate one person to start the process to change their life for the better, I've done my job."
Ready to take the first step toward a healthier life? Learn more about Inova Weight Loss Services to find out if medical weight loss or bariatric surgery is right for you.