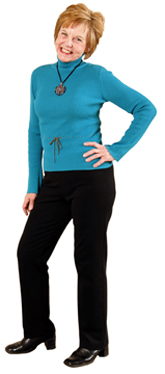 "Now is the time to face the dragon, or it will chase you for all of your life."
I thought of that quote as I left my third doctor's appointment in a month. Each doctor told me that I would be a good candidate for roux-en-y gastric bypass surgery.
My sleep apnea and fibromyalgia were getting me down. My arthritic knee was slow to heal after surgery and I was shopping for size 3X. I had to face the dragon.
Inova Fair Oaks Hospital and my surgeon gave me the tools to fight on December 12, 2005, when I had the surgery. I was determined to succeed and scrupulously followed the aftercare instructions. I drank the protein and the water, ate those tiny portions, chewed the food and took the supplements.
I began an exercise program and saw the weight slowly diminish. It felt good to measure my body every week, even if the pounds hadn't dropped that week. After a year I had lost over 120 pounds and my weight stabilized.
Now I shop not for 3X, but a size 6. I feel great, have more energy than ever and look 20 years younger. I am not hungry. Life is very good.
Having gastric bypass surgery was the best decision I ever made. I did face the dragon – it is now chasing someone else and not me! I can't say my battle was easy, but my relationship to food has altered drastically and living a healthy life is absolutely wonderful. Thank you Inova Fair Oaks Hospital and Dr. Anez. You are the greatest!