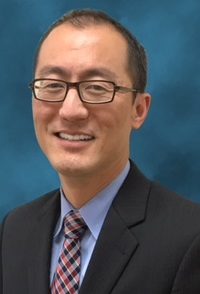 Brian Lam, MSHS, PA-C, has enjoyed working in hepatology for over a decade. He received his Bachelor of Science degree in biology from the University of California Los Angeles, and he completed his Master of Science in Health Sciences in Physician Assistance studies at top-ranked The George Washington University in 2003. He has provided clinical care to patients with many forms of liver disease, particularly hepatitis B, hepatitis C, autoimmune and cholestatic liver disease and nonalcoholic fatty liver disease and steatohepatitis.
Since 2007, Brian has had the privilege to serve as an investigator for numerous phase II and III clinical trials. It has been a highlight of his career to be intimately involved in the development of the newer direct active anti-HCV antivirals. For decades, the medical community has promised safer and more effective treatments to patients with chronic hepatitis C. Brian has found it particularly gratifying to play a small part in fulfilling that promise. He is keenly aware of the great need that now exists for the many patients with nonalcoholic steatohepatitis, and he is very hopeful that current research will have a lasting impact on the health and productivity of generations to come. He is grateful for the unique opportunities for collaboration here at Inova and for the privilege to work alongside highly respected thought leaders like Dr. Younossi and Dr. Goodman.
Brian is also highly involved in mentoring and teaching, from high-school students, undergraduate and master students from George Mason, to PA school students and GI fellows. He has been an active member of the American Association for the Study of Study of Liver Disease since 2011. Brian has collaborated with Inova's team of research scientists, statisticians, and students to move the science of hepatology forward. Our research is published regularly and multiple abstracts are regularly accepted at the annual meetings for the AASLD, EASL, ACG and at Digestive Disease Week. Additionally, Brian is a sought after speaker with expertise in viral hepatitis and NAFLD/NASH.
In his free time, Brian enjoys spending time with his wife and two school-aged children. They enjoy traveling to visit relatives in Los Angeles and grandparents in Singapore. Favorite activities include cooking with his wife, playing guitar at church, and assistant coaching his son's soccer team. Brian can be contacted at 703-776-6430 or via email at brian.lam@inova.org.