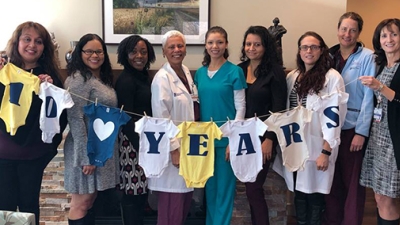 Inova Cares Clinic for Women - Lansdowne
Inova Cares Clinic for Women offers obstetric (pregnancy and childbirth) care to women who are uninsured, have limited resources, or are insured by Medicaid. This program is a service of Inova Loudoun Hospital and offered to the community in collaboration with the Loudoun County Health Department and HealthWorks for Northern Virginia.
Our team of board certified OB/GYN physicians and midwives promote early and continuous prenatal care for their culturally diverse patient population. Over the past decade, the clinic has delivered approximately 6,000 babies at Inova Loudoun Hospital. Certain eligibility information is required.