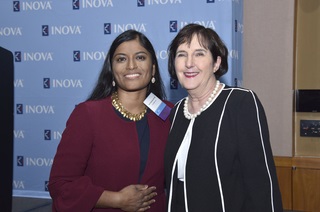 We have a dynamic and growing Research and Evidence Based Practice (EBP) program at Inova Fairfax Medical Campus, and across the entire Inova Health System. At Inova Fairfax, we currently have several active research studies and two active Nurse Fellows Evidence Based projects started in 2018 or 2019.

We support the Vizient Nurse Residency Program and the numerous, inspirational, and innovative EBP projects developed by our nurse residents. Additionally, we support and facilitate the initiatives of other registered nurses within the campus, who are undertaking evidence based projects and research.

Inova nurses undertaking research projects have access to world-class support resources, including:
Librarians in the Inova Fairfax Health Sciences Library
Grants Management Office
Access to many research and EBP templates
The privilege to work collaboratively with other health care institutions
Presentations
A sample of evidence-based practice and research activities undertaken by nurses at Inova Fairfax Medical Campus with the aim of systematically improving patient care, reducing error, and enhancing the integrity and excellence of all healthcare interactions.