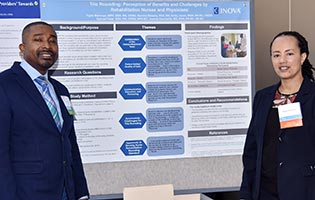 The Nursing Research & EBP Council supports innovation and collaboration within our hospital and across the Inova system. We seek to promote a culture of inquiry among nurses at all levels and in a variety of practice environments, with the goal of generating high-quality knowledge and implementation of evidence into our daily workflow.
IMVH aspires to be a leader in EBP and nursing research, grounded in the pursuit of excellence and caring science. Our nurses' work results in improvements to both nursing practice and the patient experience.
Nurses at IMVH who embark on research projects have access to world-class resources, including:
Dedicated and experienced PhD-trained nursing research scientists
Supportive librarians at the Inova Health Sciences Library
The annual Inova EBP Fellowship Program, which allows nurses to work collaboratively with other hospitals
The Inova Grants Management Office
Access to research policies, toolkits and templates that systematically guide nurses through the research or EBP process
IMVH nurses are honored to share our research findings and EBP outcomes with a variety of internal and external audiences. Below is a sample of our research and EBP poster and podium presentations.