Program Mission
The Inova Histology Program will provide an educational program that teaches the art and science of Histopathology via lecture and lab. A certified Histotechnician plays a vital role in the preparation of microscopic routine and special stain slides for tissue abnormalities diagnosed by a Pathologist. This program's focus will be on technical abilities, troubleshooting, confidence to pass the American Society of Clinical Pathology Board of Certification Examination and versatility to work as a Histotechnician in a hospital setting, reference lab, or research facility.
Program Goals
Inova Histology Program seeks to graduate students that will have the necessary skills to perform high complex testing in Histopathology Laboratories. The program will provide practicums as well as clinical rotations that emphasize technical skills and knowledge, resulting in a successful practicing histotechnician. Both lecture and lab will be done in a safe atmosphere inspiring learning of various styles with aspirations to become educators and leaders in the field. The program goal is to graduate students with a high degree of professionalism and integrity, as they become an active member in the healthcare community.
Program Outcome Measures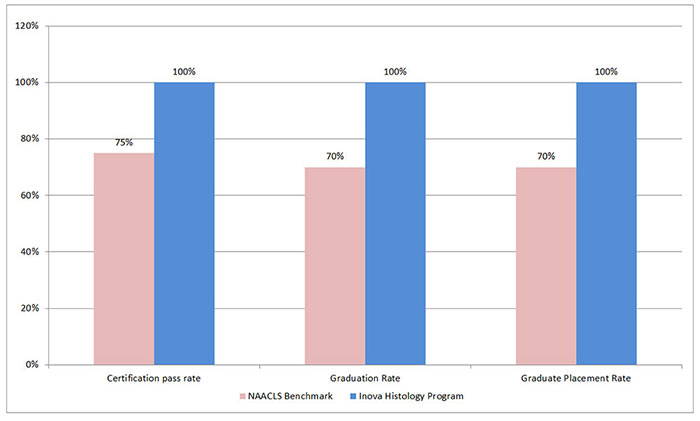 Curriculum
The Inova Histology Program will cover histology, immunohistochemistry, cytology specimen preparation, and light microscopy.
This program will also include principles and methodologies, problem‐solving, and troubleshooting for all major areas practiced in the contemporary histopathology laboratory. The Inova Histology Program is a full-time, 10 month (40 weeks) training program.
Facilities
Student Rotation Sites
---
In order to graduate from the Inova Histology Program and to qualify to take the Board of Registry examination, the requirements are as follows: