Welcome to the Inova Cardiovascular Disease Fellowship Program
Our Fellowship program provides a supportive environment to acquire best-in-class knowledge, procedural skills, and the clinical experience necessary to become excellent independent practitioners and lifetime learners. Inova Fellows have ample opportunity to be involved in clinical research uniquely positioning them for the next phase of their careers.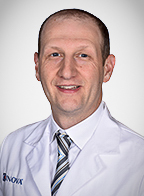 Thank you for your interest in our cardiovascular disease fellowship program here at Inova. Our Heart and Vascular Institute has grown dramatically over the last decade from all perspectives – patient care, research, and medical education.
Fellows training here have the opportunity to care for a diverse patient population with high acuity and complexity, under the mentorship of dynamic nationally recognized faculty. Graduates have excellent clinical and research skills, preparing them for a wide variety of career paths. We look forward to sharing our program with you!
Thank you,
Jamie L. W. Kennedy, MD, FACC
Director, Inova Cardiovascular Disease Fellowship Program
Michael C. Flanagan, MD
Associate Program Director, Inova Cardiovascular Disease Fellowship Program
Welcome from Dr. Chris O'Connor
Virtual Tour - Long Version