PGY1 Pharmacy Residents
PGY2 Critical Care Pharmacy Resident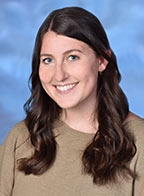 Maggie Thannisch, PharmD
Pharmacy School: University of Arkansas
PGY1 Pharmacy Residency: University of Arkansas Medical Center
Practice Area Interests: Mechanical circulatory support, anticoagulation, informatics, and practice management
Reason for coming to Inova Fairfax Medical Campus:
I was initially drawn to Inova Fairfax Medical Campus due to their wide variety of critical care opportunities, specifically within the trauma and cardiac populations. My interest in IFMC only grew after my initial interaction with both the RPD and the previous PGY2 resident at Midyear and was solidified after meeting the critical care clinical specialist team. I knew by training here, I would be in an environment where I would be cared for, invested in, and challenged to reach my fullest potential. I look forward to the critical care pharmacist I will be after the diverse experiences and thoughtful mentorships I have had the opportunity to receive.
PGY2 Emergency Medicine Pharmacy Resident
Jessica Woodward, PharmD
Pharmacy School: University of Maryland
PGY1 Pharmacy Residency: University of Virginia (UVA) Health
Reason for coming to Inova Fairfax Medical Campus:
Inova Fairfax Medical Campus allows me to train at a Level I trauma center with a diverse and challenging patient population. There are plenty of opportunities to explore my interests in cardiology, infectious disease, resuscitative medicine, and transitions of care as well as other unique opportunities including a toxicology rotation at the National Poison Control Center and precepting. I know that after training here, I will be a well-rounded emergency medicine clinical pharmacy specialist.
2020 - 2021 Residents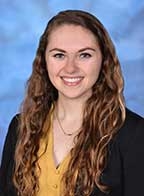 Lauren Albertina, PharmD
2020 - 2021 PGY2 Critical Care Pharmacy Resident
Pharmacy School: St. Louis College of Pharmacy
PGY1 Pharmacy Residency: Fort Sanders Regional Medical Center
Joined as at Inova Fairfax Medical Campus as a Clinical Pharmacy Specialist in Critical Care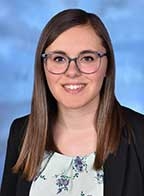 Alicia Senart, PharmD
2020 - 2021 PGY2 Emergency Medicine Pharmacy Resident
Pharmacy School: University of Toledo
PGY1 Pharmacy Residency: Cleveland Clinic Fairview Hospital
Hired as an Emergency Medicine Clinical Pharmacist at Greater Baltimore Medical Center (GBMC)