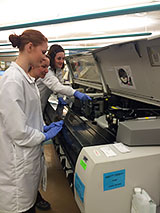 The program begins mid-August each year and ends in mid-July. Orientation is held the first week of class. The instructional time is equivalent to more than 1,700 clock hours or 30 semester credit hours. Credit hours can vary depending on the affiliated university. The Medical Laboratory Science student will study the clinical and diagnostic aspects along with case studies, pre-analytical, analytical and post-analytical components of laboratory services. The curriculum is designed to give the students a thorough background in the performance, interpretation, and application of medical laboratory procedures with emphasis placed on correlation of test results with pathologic conditions of patients. They will also be exposed to problem solving, instrumentation, point of care, safety, quality control and quality assurance for the courses listed below. The program consists of 6 courses containing didactic lectures and supervised education in the clinical laboratories of chemistry, hematology, immunohematology, immunology, microbiology, coagulation, urinalysis, lab operations and phlebotomy.
In order to graduate from Inova Fairfax Hospital Medical Laboratory Science Program and to qualify to take the Board of Registry examination, the requirements are as follows:
MT 401 – Orientation to the Problems and Practices of the Clinical Laboratory
Orientation to the clinical laboratory - Specimen collection and record keeping, including phlebotomy. The primary function of a phlebotomist is to assist the health care team in accurate, safe and reliable collection and transportation of specimens. Laboratory operations includes: discussions of quality control, budgeting, personnel, laboratory space, supplies and equipment, concepts and principals of laboratory operations, general principles of federal and state regulations, laboratory safety, laboratory and hospital information system, ethics and medical/legal matters. Basic laboratory techniques such as pipetting, microscopy, and laboratory mathematics are also included.
MT 402 – Clinical Hematology and Coagulation
Course involves the study of maturation, morphology and function of blood cells and their role in disease processes. Emphasis is placed on both manual and automated laboratory procedures, blood cell identification, and the relationship of cells with specific diseases such as anemia, leukemia, lymphomas and reactive processes.

This course also covers the mechanisms involved in the coagulation system, including platelet function, coagulation factors, and fibrinolytic system. Bleeding and clotting disorders as well as treatment modalities are discussed. Laboratory evaluation of the hemostatic process and the correlation of laboratory findings with disease states will be emphasized.
MT 403 – Clinical Microscopy
This course of study covers the physical, chemical and microscopic analysis of urine. Renal function, disease states, and the physiology and clinical analysis of CSF and other body fluids are also covered. Emphasis is placed on laboratory procedures, morphological findings and the correlation of test results to disease states.
MT 404 – Immunohematology
Topics of study include genetics and biology of red cell antigen systems, ABO/Rh blood typing, antibody screening and identification, compatibility testing and solving compatibility problems, additional laboratory analyses, and donor requirements, preparation of blood components for transfusion, quality and inventory control, instrumentation, and current practices in component preparation.

This course also includes Immunology/Serology lecture series. Topics of study include antigen/antibody structure, function and interaction as they relate to serologic diagnosis. The course explores the human immune system in relation to immunophysiology, hypersensitivity, immunochemistry, immunities to infectious agents, disorders of the immune system, and clinical applications. The course also provides principles of current clinical techniques, methodologies and instrumentation, result interpretation and clinical applications.
MT 405 – Clinical Microbiology
This course looks at pathogenic bacteria, mycobacteria, parasites, viruses and fungi of humans in relation to pathogenesis, epidemiology, clinical manifestations, infectious diseases and antimicrobial agents. Practical laboratory instruction includes specimen collection; handling and transport; media composition and utilization; culture, isolation and identification methods; and automation, quality control methods and laboratory safety.
MT 406 – Clinical Chemistry
Study of the biochemical constituents of body fluids, their physiological functions and alterations in disease states. Emphasis is placed on the analytical methods of the laboratory. This includes the study of the principles, operation and maintenance of laboratory instrumentation, the use of computer technology, quality control and quality assurance tools.
Student Project
The student project is an independent study. On the job, a Medical Laboratory Scientist is expected to be able to improve old methods and to evaluate and implement new methods. These on-the-job assignments might range from reorganization of the workload in a department in a management role to setting up new test procedures. The purpose for the student project is to provide the student with:
Experience in evaluating the need for change by means of the research involved in getting the project approved through a project proposal
Experience in the actual process of reorganization or setting up new procedures. New procedures provide students with working experience in quality control, cost analysis, statistics, establishment of normal values and other areas that the medical laboratory scientist are asked to evaluate in the laboratory.
Whether or not the laboratory adopts the project results, neither adds nor detracts from the validity of the project. The purpose of the project is to provide a learning experience for the student, not a service to the laboratory.