What's New?
Inova hosted a Virtual Community Meeting on Wednesday, March 30, 2022, to provide information about the development proposal for the new hospital campus to be built on the former Landmark Mall site.
A recording of the meeting, presentation and concept submission are posted below.
Project Process and Schedule
Rezoning: CDD Approved 2021
DSUP: March 2022 to February 2023
FSP/Building Permits: 2023 to 2024
Hospital Construction: 2024 to 2028
Cancer Center Construction: 2026 to 2028
SCC Construction: 2026 to 2028
Opening: 2028
Note: This schedule is preliminary and subject to change. For more information on the Landmark Mall Site Redevelopment Process, including development submissions visit: alexandriava.gov/landmark.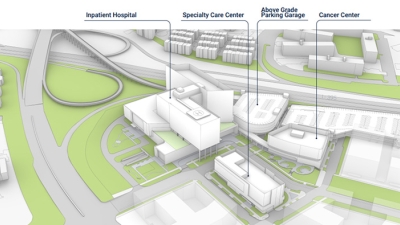 Inova Alexandria Hospital at Landmark Development Plan
On December 22, 2020 Inova, the City of Alexandria, and development partners announced plans for a mixed-use community and state-of-the-art medical campus at Landmark. The proposed Inova Alexandria Hospital at Landmark would allow for comprehensive, patient-centered programs and services that include a larger emergency room; private patient rooms; and the Inova Schar Cancer Institute at Alexandria Hospital, which would offer full cancer services, including radiation and infusion. The hospital would be one of only three Level II trauma centers in Northern Virginia, seven statewide, and 270 nationwide, providing 24-hour specialty services for brain injuries, complex fractures, and other trauma care. The addition of a medical office building would allow an estimated 50 specialty physicians to see patients on the same campus as the new hospital. The hospital complex is expected to open in 2028.
In order to facilitate the relocation of the hospital from its current location to Landmark Mall, Inova worked with the community and requested to rezone the existing hospital site at Seminary Road for townhouse and single-family use. City Council approved the request.