"Straight A's" in hospital safety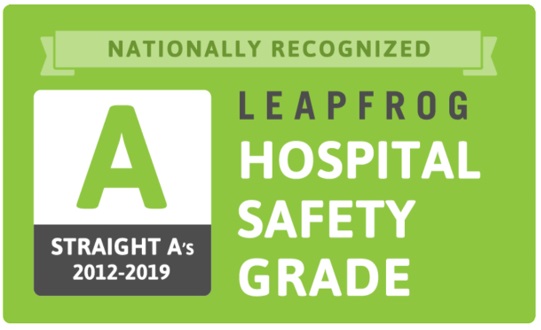 Straight A's since 2012! Inova Loudoun Hospital is one of only 41 hospitals nationwide (and the only hospital in Northern Virginia) to earn "straight A's" since the inception of the Leapfrog Hospital Safety Grade in 2012.
An "A" grade is one of the most meaningful honors a hospital can achieve, and one of the most valuable indicators for patients looking for a safe place to receive care. Developed under the guidance of an expert panel, the Leapfrog Hospital Safety Grade uses 27 measures of publicly available hospital safety data to assign A, B, C, D and F grades to approximately 2,600 U.S. hospitals twice per year. It is calculated by top patient safety experts, peer-reviewed, fully transparent and free to the public.
CMS 5-Star Award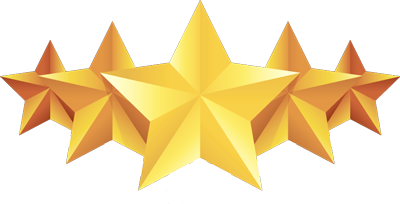 Inova Loudoun Hospital earned five out of five stars for quality by the Centers for Medicare & Medicaid Services (CMS), an independent government agency.
 
This recognition was earned through a rigorous analysis of 57 patient care standards that we exceed every day. It's Inova's ongoing commitment to personalized medicine that leads to better outcomes for our patients.
NURSING EXCELLENCE
Magnet Nursing Designation

Inova Loudoun Hospital earned Magnet® status from the American Nurses' Credentialing Center (ANCC) for the third consecutive term. Magnet status is the highest institutional honor awarded for nursing excellence. Only 5 percent of the 6,000 hospitals in the United States have earned Magnet designation.

The AANC, an affiliate of the American Nurses Association, grants the status to hospitals that satisfy a set of criteria. The process for earning the status is lengthy and measures four years' worth of statistics to come to the determination. Inova Loudoun Hospital first earned Magnet status in May 2006; we were recertified in October 2011 and again in June 2016.
Hospitals applying for magnet status must meet demanding criteria, including benchmarks in nursing leadership, excellence in patient care, quality clinical standards and a commitment to continued quality review and improvement. The benefits to patients include improved medical outcomes, shorter in-hospital stays and lower mortality rates.
According to the Joint Commission of Accreditation of Healthcare Organizations, "Recognizing quality patient care and nursing excellence, the Magnet Recognition Program provides consumers with the ultimate benchmark to measure the quality of care they can expect to receive."
Lantern Award: National Recognition for Excellence in Emergency Care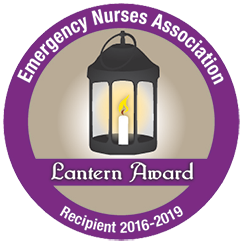 Three of Inova Loudoun Hospital's Emergency Rooms have earned the prestigious Lantern Award from the Emergency Nurses Association (ENA); Inova Virts Miller Family Emergency & Trauma Center (Lansdowne – 2015); Inova Children's Emergency Room at Loudoun Hospital (Lansdowne – 2016); and the Inova Wheeler Family Emergency Department (Leesburg – 2018).

The award is a visible symbol of an emergency department's commitment to quality, presence of a healthy work environment and successful incorporation of evidence-based practice and innovation into emergency care.
Beacon GOLD Award for ICU

In June 2018, the AACCN conferred a gold-level Beacon Award for Excellence on the Intensive Care Unit at Inova Loudoun Hospital. This is the 3rd Beacon designation for the Inova Loudoun ICU, and our first gold. We are one of only 108 units nationwide and the only unit within the Inova Health System to earn gold.
Beacon Award for Critical Care Nursing Excellence
In February 2018, the American Association of Critical-Care Nurses (AACCN) awarded the Progressive Care Unit at Inova Loudoun Hospital with a silver-level Beacon Award for Excellence; this is the unit's third consecutive designation.
The Beacon Awards recognize exceptional clinical nursing units in hospitals across the country. Units that receive the Beacon Award for Excellence meet criteria in six categories: leadership structures and systems; appropriate staffing and engagement; effective communication, knowledge management, and learning development; evidence-based practice and processes; and outcome measurement. For patients and families, the Beacon Award signifies exceptional care through improved outcomes and greater overall satisfaction. For nurses, a Beacon Award signals a positive and supportive work environment with greater collaboration between colleagues and leaders, higher morale and lower turnover.
PRISM Award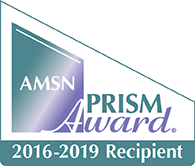 The Medical Surgical Unit (MSU) at Inova Loudoun Hospital has received the prestigious AMSN PRISM Award®, a new honor recognizing exceptional nursing practice, leadership and outcomes in hospital medical-surgical units across the country. Inova Loudoun Hospital was one of only 16 hospitals in the U.S. to receive this honor in 2016.
SURGICAL EXCELLENCE
Joint Commission Center of Excellence for Hip and Knee Replacement

Inova Loudoun Hospital has earned The Joint Commission's Gold Seal of Approval® for accreditation for hip and knee replacement by demonstrating compliance with The Joint Commission's national standards for healthcare quality and safety in hospitals. The accreditation award recognizes our dedication to continuous compliance with The Joint Commission's state-of-the-art standards.
Joint Commission Center of Excellence for Spinal Surgery

Inova Loudoun Hospital has earned The Joint Commission's Gold Seal of Approval® for spinal surgery by demonstrating compliance with The Joint Commission's national standards for healthcare quality and safety in hospitals. The Gold Seal is a symbol of quality that reflects our commitment to providing safe and effective patient care.
STROKE CARE
Joint Commission Seal of Approval Primary Stroke Center

Inova Loudoun Hospital was re-certified in June 2017as a Joint Commission Certified Advanced Primary Stroke Center. Additionally, the Inova Emergency Room – Leesburg and Inova Emergency Room – Ashburn were certified as Acute Stroke Ready Hospitals (ASRH). Certification as an Advanced Primary Stroke Center and an Acute Stroke Ready Hospital is held by only a small percentage of hospitals nationwide. The Ashburn and Leesburg facilities are the 2nd and 3rd in the state of Virginia to achieve the ASRH designation.
Gold Plus and Target: Stroke Honor Roll Elite Plus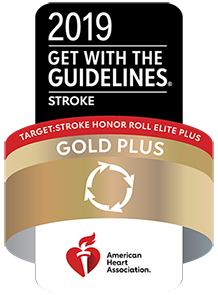 Inova Loudoun Hospital has again been recognized with the Gold Plus and Target: Stroke Honor Roll Elite Plus award by the American Heart Association and American Stroke Association. An advanced level of stroke recognition, it acknowledges hospitals for their compliance with the quality measures within the "Get With the Guidelines" Stroke Program.
Read more about the "Get with the Guidelines" stroke program.
HEART & VASCULAR CARE
American College of Cardiology Award for Cardiac Care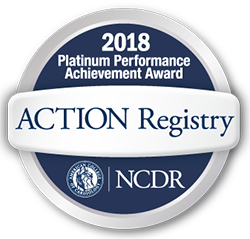 Inova Loudoun Hospital is one of only 203 hospitals nationwide to receive the American College of Cardiology's NCDR ACTION Registry Platinum Performance Achievement Award for 2018. This award reflects our commitment and success in implementing a higher standard of care for heart attack patients and that we've reached an aggressive goal of treating these patients to standard levels of care as outlined by the ACC and American Heart Association's clinical guidelines and recommendations.
American Association of Cardiovascular and Pulmonary Rehabilitation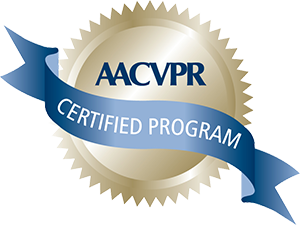 In 2018, Inova Loudoun Hospital's Cardiac and Pulmonary Rehabilitation program earned its fourth consecutive certification by the American Association of Cardiovascular and Pulmonary Rehabilitation (AACVRP). AACVPR program certification is the only peer-review accreditation process designed to review individual programs for adherence to standards and guidelines developed and published by the AACVPR and other professional societies. AACVPR-certified programs are recognized as leaders in the field of cardiovascular and pulmonary rehabilitation because they offer the most advanced practices available. This certification is valid for three years (2018 – 2021).
American Heart Association Recognition for Treatment of Severe Heart Attack

Inova Loudoun Hospital received the 2015 Mission: Lifeline® Bronze Award for implementing specific quality improvement measures outlined by the American Heart Association for the treatment of patients who suffer severe heart attacks.

This award shows that Inova Loudoun Hospital met specific criteria and standards of performance for the quick and appropriate treatment of STEMI patients suffering from a severe type of heart attack.
CANCER CARE
Commission on Cancer Award

The American College of Surgeons' Commission on Cancer honored Inova Loudoun Hospital with an Outstanding Achievement Award for cancer care in 2014, the second time the hospital has received the honor. Only 93 hospitals nationwide received this recognition for excellence in providing quality care to cancer patients.
Breast Care Accreditation from NAPBC

In 2018, Inova Loudoun Hospital's breast center was re-accredited by the National Accreditation Program for Breast Centers (NAPBC).

NAPBC-accredited breast centers are leading organizations in their field and are dedicated to providing high quality care. To earn accreditation, a breast center must meet or exceed the NAPBC quality standards, pass an on-site visit every three years, and maintain high levels of excellence.
APEx Accreditation for Excellence in Radiation & Oncology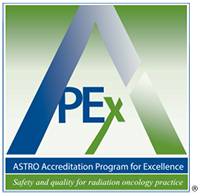 Our radiation oncology program is accredited as a center of excellence (APEx) by the American Society of Radiation Oncology (ASTRO). APEx accreditation demonstrates commitment to high standards of safety and quality in the practice of radiation and oncology and that we practice patient-centered care by promoting effective communication, coordinating treatment, and engaging patients and their families as partners in care.

PEDIATRIC CARE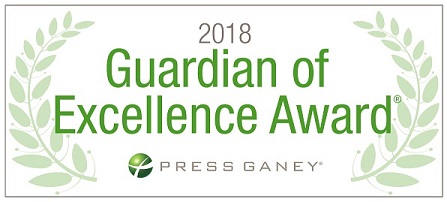 Inova Loudoun Hospital is again the recipient of the annual Press Ganey Guardian of Excellence Award® for Patient Experience in Inpatient Pediatric Care. We achieved this distinction by reaching the 95th percentile for each reporting period in 2018. This is the fourth consecutive year (2015–2018) in which the Inova Loudoun Hospital Pediatric Inpatient Unit has received this award.
NURSING & REHABILITATION
National Quality Award from the American Health Care Association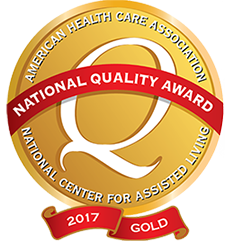 Inova Nursing and Rehabilitation Center – Leesburg earned a 2017 Gold – Excellence in Quality Award from the American Health Care Association and National Center for Assisted Living (AHCA/NCAL). This honor recognizes their superior performance in the long term and post-acute care profession. ILNRC was one of only three providers nationwide to receive the 2017 Gold – Excellence in Quality Award. Since the program's inception in 1996, AHCA/NCAL has recognized only 31 organizations with awards at the Gold level, excluding this year's recipients.
CHILDBIRTH SERVICES
International Board of Lactation Consultant Examiners
We are proud to have once again earned the Care Award from the International Board of Lactation Consultant Examiners. This means we employ only certified International Board Certified Lactation Consultants (IBCLCs) and have a dedicated lactation support program available 5-7 days a week. We also have demonstrated that we provide training for our nursing, medical and other staff that care for breastfeeding families, and have implemented special projects that promote, protect and support breastfeeding. Learn more about Inova Loudoun Hospital Lactation Center and Boutique