Excellence in Surgery
Third-party recognition and accreditations play a crucial role in recognizing excellence, driving quality improvement, instilling patient confidence, benchmarking industry standards, attracting talent, and facilitating effective marketing and public relations. They contribute to the overall advancement and positive development of the healthcare sector.
These acknowledgements allow us to not only benchmark our performance against others but ensure that we are providing the best care to our neighbors in the Northern Virginia and Washington, DC, metro community.
American College of Surgeons Quality Programs
Finding the best place for your surgery is a big decision. That's why we've partnered with the American College of Surgeons (ACS). Their Quality Programs help us meet the highest care standards. This process lets you know you are receiving the best practices and the latest procedures available. The future of patient care is here right now.
The American College of Surgeons is the nation's leading surgeon association dedicated to improving the care of the surgical patient and to safeguarding standards of care in an optimal and ethical practice environment. Improving surgical care leads to greater access for patients, fewer complications, lower cost of care, and better outcomes. ACS Quality Programs improve quality in trauma, cancer, breast disease, bariatrics, and overall surgical care.
Inova is an ACS Surgical Quality Program Partner by participating in nine ACS Quality Programs
ACS Quality Programs certify quality care for you and your family and improve hospital-wide care and care provided at specialty surgical practices.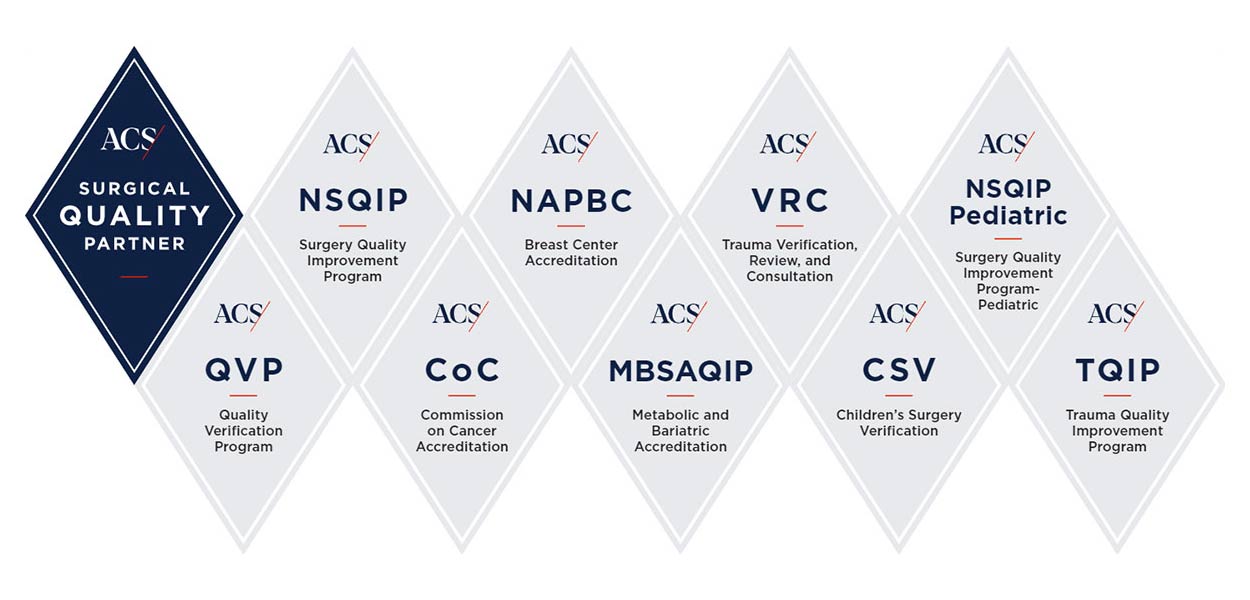 ---
U.S. News & World Report
#1 Overall in the Washington, DC Metro Area
U.S. News & World Report has again ranked Inova Fairfax Hospital #1 in the Washington, DC metro area. In addition, Inova Fairfax has also been ranked #1 in the Commonwealth of Virginia for the second year in a row.
Inova Fair Oaks Hospital ranked #4 in DC and #8 in Virginia, and Inova Alexandria ranked #5 in DC and #10 in Virginia.
In addition to overall best hospital rankings, all five Inova hospitals received recognition as high performing in several specialties and common adult procedures and conditions. These rankings are a result of U.S. News evaluating nearly 5,000 medical centers across the country.
About the U.S. News "Best Hospitals" Rankings
The U.S. News Best Hospitals analysis reviews hospitals' performance in adult and pediatric clinical specialties, procedures and conditions. Scores are based on several factors, including medical outcomes such as survival, patient experience, nurse staffing and more. Hospitals are ranked nationally in specialties from cancer to urology and rated in common procedures and conditions, such as heart bypass surgery, hip and knee replacement and COPD. Hospitals are also ranked regionally within states and major metro areas so you can find the best hospital near you.
---
Leapfrog: "Straight A's" in Safety + Three "Top Hospital" Awards
All five Inova hospitals have again been awarded a grade of "A" for hospital safety by The Leapfrog Group, a national organization that aims to improve healthcare quality and safety for consumers and purchasers. Leapfrog Hospital Safety Grade uses 30 measures of publicly available hospital safety data to assign grades to approximately 2,700 U.S. hospitals twice per year. It is peer reviewed, fully transparent and free to the public.
---
CMS Rated Hospitals
Inova Fair Oaks Hospital, Inova Loudoun Hospital and Inova Mount Vernon Hospital have once again received 5-star ratings from the 2022 Centers for Medicare and Medicaid Services (CMS) Overall Hospital Quality Star Rating. Inova Fairfax Hospital and Inova Alexandria also received impressive 4-star ratings from the federal agency. Inova is the only hospital system in the Washington, DC region with 5-star rated hospitals from CMS and is the highest ranked system in the Commonwealth of Virginia.
CMS, the top health agency of the federal government, created the Five-Star Quality Rating System as an evidence-based evaluation reflecting a hospital's standard of care. The rating system is based on quality measurements that have real meaning for patient health and well-being, including safety, timeliness and effectiveness of care.
---
Joint Commission Accreditation
All Inova hospitals are fully accredited by The Joint Commission. Additionally, across the system, Inova hospitals hold 20 Joint Commission disease-specific certifications. This means Inova meets the highest standards for healthcare performance, quality and safety.
The purpose of The Joint Commission on Accreditation of Healthcare Organization's survey and accreditation process is to evaluate facilities' compliance with nationally established Joint Commission standards that relate to quality and safety of care. The Joint Commission is one of the nation's most respected accrediting agencies. Achieving The Joint Commission's demanding standards ensures that our performance and improvement is held to the highest standards nationwide.
By meeting The Joint Commission on Accreditation of Healthcare Organization's national standards for healthcare quality and safety, Inova hospitals have received multiple Gold Seals of Approval®.
Excellence in Cancer Care
National Pancreas Foundation Center of Excellence
Inova Fairfax Hospital has been nationally recognized as a National Pancreas Foundation Center of Excellence. This designation distinguishes Inova Fairfax Hospital as an institution providing the best and most innovative multidisciplinary treatment for pancreatic cancer.
Excellence in Heart and Vascular Care
2023 Winner of the TrueNorth Award
The TrueNorth Award recognizes facilities that use certification as a "true north," guiding their perioperative nursing staff to be lifelong learners, models of competent practice, and advocates for excellence and patient safety. Facilities who earn the TrueNorth Award exhibit the highest standards in perioperative certification excellence.
Excellence in Nursing
Go Clear Award™ from the Association of periOperative Registered Nurses
All five Inova hospitals received the Go Clear Award™ for eliminating hazardous smoke from surgical procedures.
The Go Clear Award is presented by the Association of periOperative Registered Nurses (AORN) to recognize healthcare facilities that have committed to providing increased surgical patient and health care worker safety by implementing practices that eliminate smoke caused by the use of lasers and electrosurgery devices during surgery. Inova hospitals earned its award by undergoing comprehensive surgical smoke education and testing and for providing the medical devices and resources necessary to evacuate surgical smoke during all smoke-generating procedures.
---
American Nurses Credentialing Center (ANCC) Magnet Status
Four Inova hospitals – Inova Fairfax Hospital, Inova Fair Oaks Hospital, Inova Loudoun Hospital and Inova Mount Vernon Hospital – have all been designated as Magnet® facilities by the American Nurses Credentialing Center (ANCC). Inova Alexandria Hospital is on the Magnet journey and is a designated Pathways to Excellence facility.
In addition to receiving its Magnet designation, Inova Fairfax Hospital was singled out by ANCC with an "exemplar" for its Merit Rounding program that has been a central part of its care for COVID-19 patients.
---
NurseJournal Best Hospitals for Nurses
We are proud to be named one of the nation's best hospitals for nurses to work, ranking number 11 of 5,000+ hospitals considered for the NurseJournal 2023 Best Hospitals to Work as a Nurse list.
---
Academy of Medical-Surgical Nurses (AMSN) Prism Award
Awarded to Medicine A unit at Inova Fairfax Medical Campus, the PRISM award recognizes exceptional practice in medical-surgical nursing units.
Excellence in Weight Loss Surgery
Excellence in Weight Loss Surgery
Inova Fair Oaks Hospital is nationally recognized as a Center of Excellence for weight loss surgery by the American Society for Metabolic and Bariatric Surgery. This designation recognizes surgical programs with a demonstrated track record of favorable outcomes in obesity surgery.