The Ladies Board
Supporting Inova Loudoun Hospital Since Its Very Beginning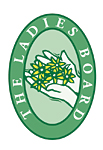 The Ladies Board of Inova Loudoun Hospital is a non-profit organization whose mission is to benefit the hospital and promote goodwill between the hospital and our community.
Members engage in a variety of activities such as organizing the annual rummage sale, staffing the hospital gift shop and Twice as Nice thrift store, and organizing the Lights of Love tree program. The Ladies Board also raises money for nursing scholarships, patient services and special projects.
Browse The Ladies Board Web site for more information 
Inova Loudoun Hospital Foundation
Inova Loudoun Hospital was founded in 1912 by community members concerned about the health and well-being of Loudoun County residents.
Today, our partnership with the community continues as donors support everything from life-saving equipment to state-of-the-art facilities to education for our stellar and experienced clinical staff.
Inova Loudoun Hospital Foundation serves the hospital as its fundraising entity and we encourage your commitment to help us raise the bar of excellence for our patient care. For more information, contact the Foundation at 703-858-8800 or donate now by clicking here.