Working as an APP at Inova
Advanced Practice Providers serve in all practice areas across Inova's five hospitals and 180 ambulatory care sites. A career at Inova offers growth opportunities in a supportive environment for both new and experienced APPs.
Inova Terms to Know
Like many healthcare organizations, we have some terms and acronyms unique to our culture. As you navigate the application process, we want to help define some of the more common terms you may encounter.
Cardiovascular Operating Room (CVOR) – Part of the Inova Heart & Vascular Institute
Central Verification Office (CVO) – Inova's centralized office for confirming, verifying, and processing the credentials of new and existing physicians, nurse practitioners, physician assistants, nurse midwives, nurse anesthetists, and psychologists
Inova Heart & Vascular Institute (IHVI) - One of Inova's eleven service lines with a focus on cardiovascular health
Inova Psychiatric Assessment Center (IPAC) – An acute evaluation site for patients experiencing behavioral health crises or concerns
Inova Schar Cancer Institute (ISCI) – One of Inova's eleven service lines with a focus on oncological care
Medical Critical Care Service (MCCS) – Inova's team of physicians and APPs who provide to critically ill patients across multiple care sites, intensive care units, and step-down units
Partial Hospitalization Program (PHP) – Part of Inova's Behavioral Health Service line, providing intensive outpatient therapy for patients
Service Line (SL) – Inova has eleven service lines, spanning the entire organization. They include: Behavioral Health, Cancer, Heart & Vascular, Medicine, Neurosciences, Musculoskeletal, Clinical Platforms, Women's, Surgery, Primary Care, and Pediatrics
Urgent Care Clinic (UCC) – Part of Inova's Primary Care Service Line, where patients receive prompt evaluations for acute illness or complaints
Testimonials from APPs Working at Inova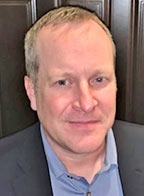 Ben Wyllie, NP
Advanced Practice Lead, Inova Neuroscience Service Line Nurse Practitioner
Inova Medical Group Neurology, Inova Fairfax Hospital
"I began my career at Inova as a nurse practitioner in neurology in 2005 after a three-year stint as a new graduate in interventional neuroradiology at another local hospital. While there have been challenges along the way, Inova has fostered incredible growth in me personally and professionally by allowing me the opportunity to work with so many talented clinicians in an extremely diverse population with a great variety of disease conditions. Built on a clear mission, a focused vision and enduring values, Inova has created an environment of exceptional quality and ongoing professional development that challenges me to learn continuously. As a regional leader in providing evidence-based, patient-centered care and with an intentional strategy toward APP role clarity and a culture of psychological safety, Inova stands out as a fantastic place to work and fully engage as an advanced practice provider. And to be completely honest, not once in 17 years have I considered leaving."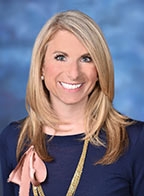 Carolyn Rosner, RN, MSN, NP-C, MBA
Director of Innovative Programs
Inova Heart and Vascular Institute
"I have been part of the team at Inova for close to 20 years and an APP here for 11. I think that part of what makes Inova a great place to work for me are the opportunities for APP's to not only be part of multidisciplinary teams but to lead them, and make a difference in the lives of our patients and their families. APP's provide clinical expertise and are recognized as a valuable link between the bedside nursing teams and staff and physicians, administrators and other team members. We have the support and autonomy to provide recommendations and enact change and have a recognized voice to advocate for our patients and teams. I love being part of the team at Inova!"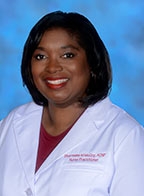 Sharmaine McCoy, MSN, ACNP
Cardiac Surgery Preoperative Management
Inova Heart and Vascular Institute
"My transition into practice occurred as I went from a Progressive Cardiac Care Unit (PCCU) RN to a cardiology nurse practitioner in 2006. My advanced practice provider (APP) career at INOVA began when our monthly provider meetings with the Chief Nursing Officer (CNO) we could all fit in a small conference room. It has been amazing to see the expansion of providers into all medical and surgical specialties across the organization. I have had the opportunity to work in various specialty roles within the Inova Fairfax Medical Campus, one of which was being a part of an APP ran medical observation unit created in 2013. INOVA offers an atmosphere of respect and support for their advanced practice providers, a testament to my longevity with the organization."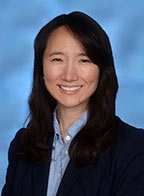 Chris Min Jin Detrick, PA-C
Endocrinology, Inova Fairfax Hospital
"I have been a physician assistant for 14 years, 9 of which have been with INOVA Fairfax Hospital. There has not been one day that I wake up not wanting to go to work here. I started as a candy striper at INOVA in high school and have been drawn back to become a clinical technician, a phlebotomist, receptionist/ secretary, and currently a physician assistant in inpatient diabetes/endocrinology. As an APP at INOVA, I look forward to the people, teams, the vision, opportunities for advancement, the evolving APP governance, proud affiliation with the AAPA. It is a privilege to be working alongside such outstanding clinicians who influence me to do better each day; at the end of the day, they are my friends and family."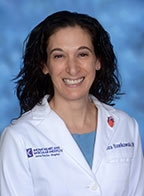 Liza Szelkowski, PA-C
Cardiothoracic Surgery, Inova Heart and Vascular Institute
"I started working at Inova in 2004 as a cardiac surgery PA and I have been there ever since. Coming from a small program and having only one year of experience, I arrived not knowing what to expect from such a large institution. At Inova I was given the opportunity to learn medicine and surgery by practicing in an environment that allowed APPs to function to their full capacity. Over the years I have had the privilege of working with and learning from physicians, surgeons, and APPs of the highest caliber. This is one of the reasons I stay at Inova. There is a focus on quality, excellence, continuous positive change, and a patient first mentality that is unparalleled. One of the biggest changes over the past few years is the way the APPs in the system have united to create a forum for learning, recognition, and participation in directives at the system level. Inova has allowed us to create an environment where we can not only thrive but also play an integral role in front line patient care that allows us to change so many patient lives for the better."