Inova's APP Transition into Practice (TIP) program supports new-to-practice nurse practitioners and physician assistants during their first year out of school. All incoming APPs with less than one year of APP experience are automatically enrolled in the program.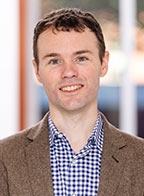 Program Manager, APP Transition Into Practice Program
Jonathan brings his experience in residency and fellowship style postgraduate clinical training programs to Inova, where he started a broader strategy of integrating and supporting new graduate APPs across all service lines and care sites in 2019.
Participants meet once per month for six months, exploring topics designed to enhance their integration into the health system while forming collaborative relationships with other new and experienced APPs. Each month, participants receive content on professional development, organizational resources, and select clinical topics. All APP TIP program participants are offered opportunities to pair with a mentor during their first year of practice.
Examples of program content:
Professional Content

Evidence Based Practice
Legal Practice
Ethics
Conducting Family Meetings
Conflict management
Communication Skills
Leadership
Emotional intelligence

Organizational Content

Library resources
Nutrition
Case Management
Pharmaceutical Operations
Epic Tips
Government Relations
Quality, experience, & safety
Coding and Billing

Clinical Content

Individual case studies
Imaging applications
Substance Abuse Resources
Cardiology Essentials
Diabetes Fundamentals
Acute pain management 
Antibiotic stewardship
Social Determinants of Health