Inova Juniper Program's education team provides customized education and training programs, technical assistance, and clinical consultation. Educators will assess your and/or your agency's needs and develop an individualized education and training plan.
Call 703-321-2600 for more information or learn more about specific types of education provided:
Tailored Training Programs
Educators are available to provide workshops, seminars, and training for healthcare professionals on many topics related to HIV/AIDS, sexually transmitted diseases, and hepatitis. Educators will assess and develop individualized training programs to meet your needs.
Regional and agency-specific trainings can be conducted at our training facility, at your office, or utilizing distance learning technologies such as webinars.
Clinical Training Program
This unique program allows healthcare professionals to observe the clinical care of HIV-infected patients and those living with hepatitis in a variety of settings. Participants attend modules related to their interests, studies, or clinical practice. Modules are offered at various times and may be repeated based on availability.
This flexible program addresses the unique needs of each participant while increasing participants' skills. Continuing education units are available. Call 703-321-2600 for information.
Technical Assistance and Consultations
Inova Juniper Program health educators and clinicians are available in-person or by telephone for technical assistance and consultation services. This is a resource for professionals regarding treatment and management of HIV and hepatitis, testing, delivering results, policy development psychosocial issues, resource referrals, and other related topics.
Call 703-321-2600 and ask to speak to a health educator.
Resource Materials and Library
Inova Juniper Program maintains up-to-date information on many HIV-related topics including HIV testing sites, crisis counseling, financial and legal resources, housing, support groups, and transportation for the Washington, DC, metropolitan area.
Our virtual resource library provides a wide array of HIV-related information for providers, patients and the community. Educators are available to assist healthcare professionals, clients, and the general public to research and explore issues surrounding HIV.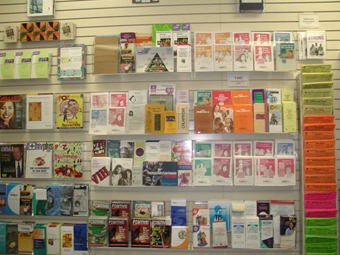 Available materials include books, pamphlets, articles, brochures, magazines, fact sheets and current treatment guidelines. Additional materials or copies can be requested. Other resources include literature searches, interlibrary loans, Internet access, videos, bibliographies and resource directories.
Inova Juniper Program also produces quality materials for clinicians and their patients.
Resource Materials
"Preventing Mother to Child Transmission of HIV" Poster

Call 703-321-2600 for details.

This 2-by-3 foot poster provides detailed information regarding the recommended treatment and management of HIV-positive pregnant women. Displayed nationwide by hospitals and clinics.

Prevention of Occupational Exposures to Bloodborne Pathogens

Call 703-321-2600 for details.

This booklet details management and treatment recommendations for occupational postexposure prophylaxis of hepatitis B and HIV. Supported by generous funding from the MidAtlantic AIDS Education and Training Center.

Northern Virginia HIV and STD Testing Sites

This two-page document is updated regularly to reflect HIV and sexually transmitted disease testing sites in Northern Virginia.
Information Dissemination
Inova Juniper Program educators use email to distribute breaking news in the HIV field. Current distribution lists relate to these HIV-related topics: testing and counseling, clinical issues, substance abuse and mental health, and hepatitis.
To be added to a distribution list, please call 703-321-2600 and ask for an educator.
Inova Juniper Program is the proud recipient of grant funds from the MidAtlantic AIDS Education and Training Center (MAAETC). Funds are used for HIV/AIDS-related training and technical assistance for healthcare providers.
Virginia HIV/AIDS Resource and Consultation Center (VHARCC) generously provides funding to Inova Juniper Center to expand quality care for persons living with HIV/AIDS and to focus on care and prevention through education and service