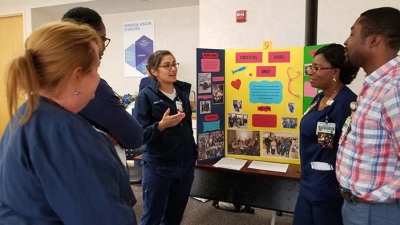 Shared Governance
Shared governance is a decision-making model focused on empowering nurses who provide direct patient care. An effective shared governance structure is fundamental for organizations on the Journey to Magnet Excellence®.
At Inova Mount Vernon Hospital, members of our clinical nursing team lead the Care Site Council. The council also includes interprofessional colleagues from Pharmacy, Laboratory Services, Infection Prevention, PT, Informatics, and Quality as ad-hoc members.
Members focus on improvements and changes that impact patient care, the work environment and professional practice. Initiatives are shared with unit practice councils, which gives clinical nurses the opportunity to participate in decisions that improve and develop their professional practice.
In 2020, several IMVH clinical nurses were part of the Inova Shared Governance Work Group to evaluate the current state of shared governance at Inova and review the literature for best practices. Their work led to the development and restructuring of four IMVH shared governance councils.
Inova Mount Vernon Hospital (IMVH) Shared Governance Councils
Nursing Research and Evidence-Practice
This council promotes knowledge development and contributions to nursing science, supporting and facilitating nurses who undertake evidence-based practice projects and research. In 2019-2020, clinical nurses led and/or participated in two nursing research studies.
Professional Development
This council supports and facilitates nurses pursuing certification, clinical ladder advancement, a BSN, and other advanced degrees. It leads and oversees the DAISY nurse recognition program, reviews RN satisfaction data, and provides professional development and recognition activities for IMVH nurses. At the end of 2020, there were 93 nurses on the clinical ladder and more than 160 certified nurses on staff.
Clinical Excellence and Patient Experience
This council examines IMVH's quality and patient satisfaction data, supporting and facilitating the work of the unit practice councils in linking work processes to outcomes. IMVH consistently outperforms the national benchmarks on all nursing-sensitive indicators including falls with injury, HAPIs, CAUTIs, and CLABSIs.
Night Council
This council supports patient care on the night shift, promotes satisfaction of night shift nurses and improves the nurse practice environment. Members represent all practice areas throughout the hospital.